Barchart is committed to providing you with the best tools for navigating today's markets. Here are some of the recent changes we've made to the site:
New Market Performance Chart
This chart showcases how the Major Market Sectors compare against each other and against the market as a whole. You can check/uncheck different sectors to update the chart. View the chart here.
(03/05/2018)
New "Extended Hours" Views for Watchlists and Portfolios
Looking to see pre- and post-market data for your Watchlist or Portfolio? Look for the new "Extended Hours" view, along with the other Views you can apply to these pages. Extended Hours data is available only for U.S. equities.
(02/28/2018)
New Custom View Fields for Portfolios
You may now create a Custom View with fields specific to your Portfolio. New fields include fields for Quantity, Action (Buy/Sell), Entry Date and Price, Today's Profit, Total Profit, and more,
If you apply a Custom View containing portfolio-specific fields to a page other than a Portfolio, those fields will not show.
(02/28/2018)
Updates to Interactive Chart Controls
Interactive Charts have a new streamlined look, designed to give you maximum viewing area for the chart itself. While the charts still function the same way, the controls you use to add studies, tools, and to change aggregations on the chart have a cleaner, "minimized" look that opens more viewing space.
A new "Bar Type" menu lets you switch your display quickly.
"Quick Chart" buttons to load pre-set timeframes.
The Calendar icon allows you to set a specific date range to display.
Controls to additional time frames not offered by the Quick Chart buttons.
"Templates" opens a menu that allows you to switch to any custom chart template you've created, or to save your current setup as a new template.
A new "Chart Menu" that contains additional commands: Comparison Chart, Expressions & Spreads, Set Alerts, Add to Watchlist, Social Share and Save Chart as an Image.
New Template Menu
Looking to apply a Chart Template? They now have their own menu, where you can apply a template you've already created, save a new one based on the current chart setup, or leave the chart page to edit all of your chart templates:
Right-Click to Access All Customization Options
And don't forget ... you can right-click anywhere on the chart to display a chart menu with access to all the controls that let you customize your chart.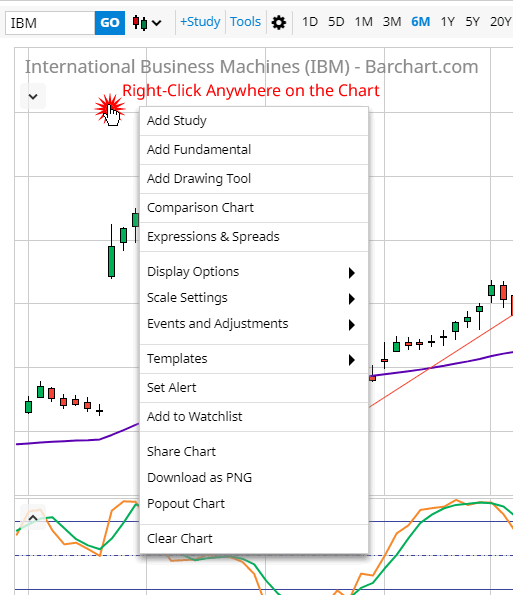 (02/12/2018)
A New Look for Dashboard
Dashboard also has been streamlined, providing the ultimate chart viewing tool for your Watchlists and Portfolios.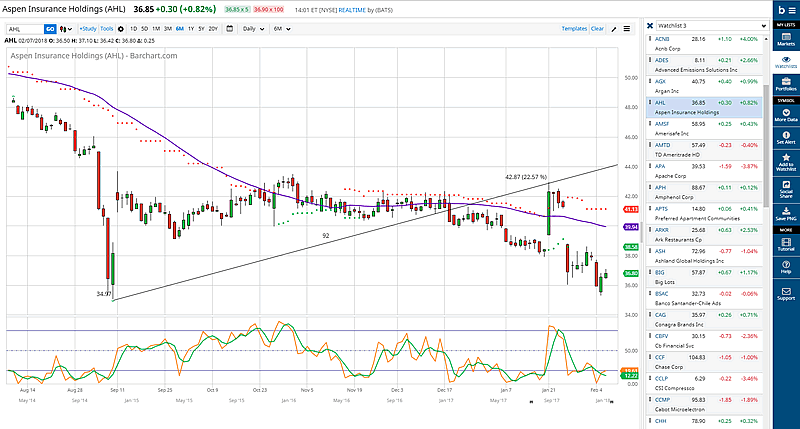 While FlipCharts are a common tool to use when on your Watchlist or Portfolio pages, they provide no means of adding tools or studies to the charts and saving them for future analysis. Dashboard, on the other hand, opens full-screen, streaming charts that you can customize. When logged in, your Interactive Charts are automatically saved to your account, giving you the most complete picture of the symbols you're most interested in.
Streaming data updates to Interactive Charts
Realtime BATS data available for U.S. equity charts
Add studies, tools, or apply your saved chart templates
Flip through full-sized charts for your Watchlists, Portfolios, and other Major Market lists
View any symbol, then add it to a Watchlist
Set Price Alerts, view additional data for a symbol ... all without leaving Dashboard
Try Dashboard Now. (02/12/2018)
Interactive Chart: Show Trendline Percent
When adding the Trendline tool to your Interactive Chart, you can now see the percent difference between the first and second data point. Simply choose the "Show Prices" option from the Trendline parameters. (02/12/2018)
View Watchlists Full-Screen
You can now "pop out" your Watchlist page to view it in a new browser window. This is especially helpful if you are using a Custom View with many columns, and you desire more horizontal space in which to see the data. Look for the arrow at the top right corner of the Watchlist page. (01/22/2018)
Opt-Out of Emailed Price Alerts
Price and News Alerts, by default, will send you an email whenever an alert has been triggered. (Barchart Premier Members may also choose to receive text alerts). A new option has been added to the Alert Center page, where you can completely opt-out of alert email delivery. Site Members can then view triggered alerts on the Alerts Center page only, and Barchart Premier Members can receive text alerts only. Simply uncheck the Alert Delivery box at the top of the page to stop receiving email alerts. (01/22/2018)
New Options Screener
A new Options Screener makes finding equity puts and calls easier, with the ability to add your own filters to narrow down candidates. Unlike the Advanced Screeners (Covered Calls, Naked Puts, and Spreads Screeners) where a specific strategy is built into the page, the new Options Screener lets you define your own criteria for Stocks, ETFs, and Index puts and call.
The Options Screener is available for Barchart Premier users. (01/22/2018)
New Barchart Members Portfolios
We've featured Jim Van Meerten's stock tips on the site for a number of years. Jim is an investor who uses Barchart tools to find interesting stocks, then adds them to his virtual portfolios. We now showcase other Barchart Members' virtual portfolios on the site as well, in the Barchart Members Featured Portfolios page.
If you are an active member of Barchart.com with a portfolio you'd like to share with the Trading Community, please contact us. (01/22/2018)
Cryptocurrency Market Capitalizations
The Cryptocurrency Market Capitalizations page displays the current market cap rankings for major cryptocurrencies based on a currency you select at the top of the page. The page initially displays using "USD" as the crossrate to calculate against.
The list of cryptocurrencies, along with data for the page, is updated and ranked every 15 minutes. Prices in the currency you choose are calculated based on the latest data available for each crossrate. (12/12/2017)
Interactive Charts: New "Fish Hook" Tool
Interactive Charts have a new tool, called "Fish Hook" that can be applied to your charts. A full array of Drawing Tools are available when using your desktop computer. (12/12/2017)
Free Newsletter for Commodity Traders!
Barchart just released a new, free newsletter that focuses on the grains, meats, softs, energies, and metals commodity markets. Called Barchart Commodity Futures Morning Update, this daily email prepares you for the events coming up in the trading day, helping you see the factors that may affect today's price action. Sent Monday thru Friday mornings. Sign Up Here. (12/12/2017)
Interactive Charts: Right-Click Context Menu
Make changes to your desktop Interactive Chart using the right-click context menu, an easy alternative to opening the individual Settings, Study, and Tools menus. (12/04/2017)
Interactive Charts: Three New Tools
50% Line, Profit/Loss Calculator and Reward/Risk Calculator
Three new tools have been added to Interactive Charts that can help you analyze possible entry or exit points. The 50% Line is used to draw a line exactly in the middle of two price points you select. You may also let the chart automatically draw the line using the 52-Week High/Low prices. The Profit/Loss Calculator calculates the profit (or loss) in any move, or the potential profit (or loss) in any possible move. The Reward/Risk Calculator allows you to determine the risk and reward potential in any trade.
Further details and directions on how to use these tools are available in the Education section. (11/27/2017)
Interactive Charts: Timeline "Navigator"
The "Navigator" is a small series that appears below the chart axis, displaying a view of the entire data set. Use it as a tool to zoom in and out the timeline, or to pan across the dataset. You can turn the Navigator on in the Settings menu (the "cog" icon), on the Display tab. Additionally, you can set this option in any Interactive Chart template. (11/27/2017)
Interactive Charts: New Setting for "Minor Gridlines"
Charts can be configured to display additional horizontal gridlines for ease of viewing. This can be configured by clicking the Settings "cog", then opening the Scale tab. Additionally, you can set this option in any Interactive Chart template. (11/27/2017)
New Cryptocurrency News Page
Find news about Bitcoin, Ethereum, Ripple, and other cryptocurrencies in the News section. (11/27/2017)
Configure the Bar Type on the Quote Overview Mini Chart
Look for a new setting in your Site Preferences for the "Overview Chart" that appears on every symbol's quote overview page. By default, we show you an Area chart, but you can configure this to any Bar Type. (11/27/2017)
Premier Members now get Automatic Streaming Updates on Interactive Charts
For Premier Members, the Interactive Chart page will automatically update -- without a browser refresh -- for all symbols on the site. Choose live updates with BATS realtime data for U.S. equities, or view streaming delayed prices for all other symbols. BATS realtime data is configured in the chart Settings menu. (11/01/2017)
"Quick Chart" Settings added to FlipCharts
Site Members can now use the "Quick Chart" options for their FlipCharts. This allows you to change the aggregation and time frame for your FlipCharts on-the-go, or use a chart template to apply studies or other custom settings.
For Site Members using Interactive FlipCharts, you will also see trendlines and other drawing tools you've added for a specific symbol, giving you a complete picture of any customization you've made. (10/24/2017)
New End-of-Day Email Reports
Site Members may opt-in to receive a number of free End-of-Day Email Reports, helpful in providing a recap of the day's most important market activity. These reports highlight the top 10 symbols found on a number of popular Barchart pages. Barchart Premier Members may also choose to receive advanced reports as well. New reports added include:
Today's Market Leaders by Price Volume (for Stocks or ETFs). Price Volume Leaders provide an insight to the most significant stocks based on the value of the shares traded, as opposed to Volume Leaders which only takes into account the number of shares traded. 
Today's Performance Leaders (Percent Change Leaders for Stocks, Futures, Forex, or ETFs). Performance Leaders spotlight symbols that show significant movement in regards to their Percent Change.
Find all subscription options for End-of-Day Email Reports in the My Barchart section. (10/24/2017)