Barchart is committed to providing you with the best tools for navigating today's markets. Here are some of the recent changes we've made to the site:
New Market Controllers in Dashboard
When using Dashboard, the "Markets" button (which contains lists of symbols from popular Barchart pages) now lets you view full-sized charts from even more of your favorite areas on the site. New Market Controllers include Stocks Volume Leaders, Percent Change, Top Stocks, 52-Week Highs/Lows, and popular Commodity groupings. (06/10/2019)
New Screener Filters, Custom View Fields for In-Depth Analysis of Previous Days' Price Movement
We've added a number of new Screener filters that let you screen for price patterns that have occurred over the last few days. Find these new filters under "Prior Day Prices" with options to search and compare conditions from today, the previous session, and 2-sessions ago. Additional screener filters that may help you in your research include the Fibonacci 61.8%, 50%, and 38.2% levels found under "Support and Resistance." In addition, these new fields are also available to add to any of your Custom Views. (06/03/2019)
Updated Mobile Menu
When viewing the website on a mobile device, we've highlighted some of the most popular links to help you navigate quicker to these popular pages and sections. (05/29/2019)
New Historical Futures Contracts Page
The Historical Futures Contracts page was designed to show you all current and expired futures contracts for a specific commodity. Sorted by contract year, the page shows contracts and prices along with the last trade date. Click on any symbol, including expired futures contract symbols, to view quote and chart data. (05/07/2019)
Download Futures Options Data
When viewing Options Quotes or Volatility & Greeks for a futures symbol, registered users to the website can now download the data to a spreadsheet-compatible file. (04/18/2019)
New Market-Open and Mid-Day Watchlist Emails for Barchart Premier Members
We've added a new option for Barchart Premier Members that allows you to receive your Watchlists and Portfolios via email up to three times each day. You may opt to receive a Market-Open (9:00am CT), Mid-Day (12:00pm CT) and End-of-Day (4:45pm CT) email. Watchlists may also be sent with a .csv attachment, using any View in your account. This provides you all the data you need for the symbols you watch to make your investment decisions. Configure these new settings on the Watchlist Emails or Portfolio Emails pages.
My Barchart Members using a free account still have the ability to receive an End-of-Day emails. (04/09/2019)
European Markets Added!
If you trade any of the European equity exchanges, you'll be excited to know that Barchart now has a dedicated European Market section, where you can view new Highs and Lows, Performance Leader reports, and other Leaderboards. Screen for stocks from different European countries, and get easy access to quotes, charts and technical analysis for European equity symbols you follow.
Access the European Market section by clicking the Market flag at the top right corner of the website, under the Log In/My Account button. (03/26/2019)
New Stock Screener and Custom View Fields
New data points have been added to the Stock Screener and Custom Views to help you in your research and analysis of U.S. equities. (03/08/2019)
Float - shares a company has issued that are available to trade (shares outstanding - restricted stock)
% Float - the percentage of regular shares available to trade.
Current Analyst Rating - the average Analyst Rating for a stock, where 5 = Strong Buy and 1 = Strong Sell
Number of Analysts - the number of Analysts who submitted a rating for the current period.
New "Mini-Chart View" in Watchlist
Available for Barchart Premier Members, this view displays each symbol on the Watchlist in a "grid" showing the Last, Change, Percent Change, and Time. For desktop users, when you hover over any symbol, a small Daily chart displays with additional option to pop the chart out to a new full-screen browser window.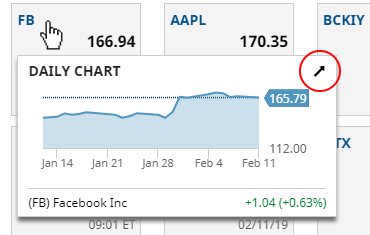 (02/12/2019)
New Screener and Custom View Fields
Barchart has added "Gap Up", "Gap Down", "Gap Up Percent" and "Gap Down Percent" to both Custom Views and the Stocks, ETFs, and Funds Screeners. "Gap Up" is the difference between the current session's open and the previous session's high, where "Gap Down" is the difference between the current session's open and the previous session's low.
Additionally, 2-Year price data fields and filters have been added, including 2-Year High and Low Price, 2-Year Percent from High and Low, 2-Year High and Low Date, and 2-Year Number of New Highs/Lows. (01/29/2019)
New Interactive Chart Study: Change Over True Range
The new "Change Over True Range" study is a volatility indicator that plots each day's net change by that day's ATR or Adjusted ATR. (01/22/2019)
New Historical Download Back to January 1, 2000
Barchart Premier members may now request end-of-day data for any symbol, going back to January 1, 2000. Found in a symbol's Price History page, the "Historical Download" tab will prompt for the desired date range before downloading the .csv data. (01/16/2019)
More Filters Added to Options Spreads Screeners
New filters added to the Bull Call, Bear Call, Bear Put and Bull Put Options Screeners for Barchart Premier users: you may now screen based on Moneyness of Leg1 or Leg2, and Delta of Leg1 or Leg2 of the strategy. (01/03/2019)
Screener Filters are now "Movable"
Filters that you add to any of the screeners are now movable. You may drag and drop them using the "Order" icon to rearrange their position on the Results tab when using the Filter View. (12/27/2018)
New Stock Screener Filters and Custom Views Fields for Quarterly Earnings, Estimates, Surprises
The U.S. and Canadian Stock Screeners have new filters that allow you to screen on the last 4 quarters of earnings estimates, reported earnings, difference (estimate vs. reported), and earnings surprise. These are the same figures reported on a stock's Earnings Estimates page. In addition, these fields are now also available for addition on a Custom View.
The new filters let you screen based on comparison of quarter-to-quarter, or for specific values or ranges. Find these new filters in the "Per Share Info" grouping. (12/27/2018)
New Deactivate / Delete All Alerts on the Alerts Center Page
There is a button labeled "Deactivate / Delete Alerts" on the Alerts Center page, allowing you to easily maintain the alerts you've added to your account. "Deactivate All" unchecks ALL alerts (helpful if you want to suspend alerts during a time of absence from trading). "Delete Inactive Alerts" will permanently remove all inactive (unchecked) alerts (helpful when you want to clean out all triggered alert history). "Delete All Alerts" will permanently remove all active and inactive alerts (clears your account completely of all alerts you've set including the triggered alert history). (12/18/2018)
Display Alert Notes on the Alerts Center Page
We've added a "Notes" icon on the Alerts Center page, allowing you to view the text notes you've entered about the alert simply by hovering your mouse over the icon. Clicking on the Notes icon will open the Alerts settings, allowing you to add, adjust, or remove the note entirely. (12/17/2018)
Compare up to Five Symbols on an Interactive Chart
Interactive Charts have expanded the Comparison Chart capability to allow five symbols for comparison against the underlying chart symbol. To create a Comparison Chart, open the chart menu or right-click on the chart, and select "Comparison Chart". (12/05/2018)
New End-of-Day Screener Emails
Barchart Premier users now can create a screener and opt to send the screener results via email at the end of each business day. This new feature, available for the Stocks, ETFs and Funds Screeners, also lets you save a screener with your preferred default view and sort, so the next time you run the screener, it's presented exactly as you wish. The new End-of-Day Screener email sends you the top 10, 25, or 50 results of the screener delivered to your Inbox using your view of choice and sort option. This lets you focus on the TOP results of the screener. You can additionally get a .csv attachment of the top 1000 results with your email.
To use this new feature, go to the End-of-Day Screeners page, or save a screener and follow the prompts to configure your End-of-Day email. (12/03/2018)
Screen on Support, Resistance, and Pivot Point Levels
The Stocks and ETFs Screeners have new filters that allow you to screen based on Pivot Point, Support Levels 1 and 2, and Resistance Levels 1 and 1. This addition makes it easy for you to find stocks that reach key turning points. Find these new filters under the "Price and Volume" filter section. (11/23/2018)
New Options Screener Filters
The Options Spreads Screeners now have new filters that allow you to screen based on Leg 1 Bid and Ask Price, and Leg 2 Bid and Ask Price. The Spreads Screeners, as well as the Covered Calls and Naked Puts Screeners, now also include a minimum bid amount of $0.05 in order to be included in the results. Barchart Premier users may remove or adjust any of these filters.
Additional Options Screener filters were added, including the ability to filter by Earnings Date, or by Industry/Sector. (11/19/2018)
Updates to Site Login / "Remember Me"
Users who login to the website on multiple devices and who use the "Remember Me" option when logging in will now stay logged in on each device. We hope this site improvement will add to a better, seamless browsing experience on Barchart.com. (10/30/2018)
New Australian Indices Page
The Australian Indices Page, available when you've switched your Market Flag (top right corner of the site) to Australia, features major indices traded on the Australian Securities Exchange. (10/22/2018)
New Sector Pages Feature Blockchain and Cannabis Stocks
Two new pages, found in the Stocks section, provide analysis for popular Blockchain Stocks and Cannabis Stocks. (10/18/2018)
Faster Updates for Equity Options
The Equity Options section on the site now features more frequent data updates for use in our Options pages and screeners. Equity options data is delayed, with the first update on the site happening at approximately 9:25am CT (data as of 8:45am ET). Barchart then updates options data every hour afterwards throughout the trading day. (10/16/2018)
New Smoothing Param added to Stochastics Fast and Stochastics Slow Studies
Interactive Charts studies Stochastics Fast and Stochastics Slow now have an additional "smoothing" parameter that allows you to modify the results based on a moving average, a smoothed moving average, or an exponential moving average. For users who previously applied the "Stochastics Modified" study to a chart, you can get the same results using Stochastics Slow with smoothing set to EMA. (10/10/2018)
New Options Screener Filter: Screen on Stock Index Groups
You can now add a screener filter that allows you to pull options for symbols in specific stock indexes (S&P 100, S&P 500, Dow Industrial, etc.) or S&P sectors. Start your screener by adding the Stock Index Groups filter, then select from the indices shown. (10/05/2018)
New Stock Screener Filter: S&P Sector Indices
You can now add a screener filter that allows you to pull equities found in specific S&P Sectors (Energy, Financials, etc.). Start your screener by adding the Profile => Index Groups filter. This filter contains other Indices as well (S&P 100, S&P 500, Dow Industrial, etc.). (10/05/2018)
New Options Screener Filter: Max Profit%
This new filter is available on the Bull Put/Call and Bear Put/Call Spreads Screeners, and allows you to narrow down candidates based on their potential maximum profit for the strategy. (09/12/2018)
Draw Perfectly Horizontal or Vertical Trendlines
When selecting the Trendline tool on an Interactive Chart, you can draw a perfect horizontal or vertical line by holding your Shift key as you draw. (09/06/2018)
New "Major ETFs" Page for Canada
A new Major ETFs page has been added for the Canadian market. This page is found in the ETFs tab and highlight major ETFs from different market sectors. (09/04/2018)
New Intraday Support for LSE Equities
Barchart now offers delayed intraday data for LSE equities. When your Market flag has been switched to 'United Kingdom', the stocks pages on the site will show symbols with a ".LN" extension (versus the outgoing ".LS" extension that only offered daily data). You will also see price updates to the UK stocks pages during the day, with LSE equities on a 15-minute delay.
If you have Watchlists or Portfolios using .LS symbols, these will continue to be available for the near-term but will eventually be phased out. You should consider switching these symbols to their new .LN extension. (08/28/2018)
Dashboard Modifications: Added Views for Controllers, Sortable Column Headers, Show/Hide "FlipCharts" Ribbon
Dashboard has a number of new features we hope will make using the tool easier for you.
FlipCharts Ribbon Available for the Controllers: If you are used to using Barchart's FlipCharts to navigate through the list of symbols on a page, you can now show or hide the same FlipCharts ribbon while working with a Controller. The FlipCharts ribbon provides the same list of symbols shown in the Controller, except they are listed at the top of Dashboard instead. Simply click on any symbol in the ribbon to display a full-sized chart.
Views for the Controllers: When you open the Markets, Watchlists, or Portfolio Controllers, you can change the View for the symbols presented. Choose from Main, Technical, and Performance Views, or apply your own Custom View.
Sortable Column Headers: Once a Controller is opened and a View is selected, you may click on any column header to sort the symbols in ascending or descending order.


(08/20/2018)
Interactive Charts: New Panes Dynamically Added to Chart Height
Interactive Charts allow you to set a beginning chart height in the Settings menu (Small, Medium, Large, X-Large). We've changed the way new study panes are added to the chart, to keep the size setting applied to the main chart containing the symbol, and to then exponentially increase the overall height of the chart as new studies are added in new panes. You may still drag and drop each pane's size to set their heights. (08/20/2018)
Screeners Now Show the "Compare to [field]" on the Results Filter View
When creating a filter in the screener where one field is compared against another, you will now see BOTH fields on the Results Filter View. For example: If you added a filter for Technicals => 20-Day Moving Average => greater than [field] => 50-Day Moving Average... both the 20-Day and the 50-Day Moving Averages will appear when you look at the Results using the Filter View. This helps you verify and see the differences between the two fields. (08/20/2018)
Download Available for Equity Symbol Financial Statements and Reports
You may now download a symbol's Income Statement, Cash Flow, and Balance Sheet data. The download files contain either quarterly or annual data, and will download all quarters/years carried on Barchart.com. Download to a .csv file is available for all Site Members. (08/13/2018)
Fibonacci Retracement Tool: New Levels Added
The Fibonacci Retracement Tool, found on Interactive Charts, now has additional levels you can configure. These include -61.8, -23.6, 127.2, 161.8, and 261.8. Additionally, you may enter a custom level if desired. To access these levels, add the tool to your chart, then right-click on the tool to show the new levels. (08/02/2018)
Social Share via Email: Share to Multiple Email Addresses
The "Share" icon found on charts and news articles allows you to send a link to the chart or article via email. You can now enter multiple email addresses when sharing, allowing you to reach more people in your network. (07/26/2018)
Add Notes and Comments to Your Watchlists
You can now add notes or comments that pertain to the entire Watchlist using the Edit Watchlist page. When viewing a Watchlist, you'll find a new toggle "Show Notes" that allows you to expand and collapse the Notes area. When Notes are visible, they are downloaded with other Watchlist data to the .csv file. (07/24/2018)
Commitment of Traders Data on Futures/Forex Symbol Quote Pages
This new widget shows the latest week's Commitment of Traders open interest. You will see the Long and Short positions from the Legacy Commitments of Traders report, plus either the Long and Short positions from the Disaggregated Report or the Financial TFF Report. A link to view a chart with both COT studies applied is also available. View the new widget here. (07/20/2018)
Request a .csv Attachment with Your End-of-Day Watchlist Email
Barchart Premier users can now choose to receive a .csv file attachment with their daily Watchlist email, for uploading the day's activity to a 3rd party spreadsheet. This option can be found on the End-of-Day Watchlist Emails page. (07/18/2018)