Trading Tips
Barchart Trader provides multiple ways for you to execute a trade, view your positions, and manage your account. Here are some common questions regarding trading:
How can I place an order?
The easiest way is to use the Docked Order Entry Bar, found at the top of the application - regardless of where you are or what panel you are working with.


You may also trade from one of these panels: the Order Ticket or the DOM Trader. You also may place a trade directly from a chart using the Chart Trader, or trade directly from a Quoteboard. Trades may also be placed from the Trading View tab.
How can I determine my overall account position?
Open the Trading View tab. In the Accounts & Positions table, find the trading account and "expand" (click the + button) to show all positions.
Can I view my Profit / Loss in terms of pips (ticks)?
When you are viewing a panel that shows your position and profit/loss, click on the P/L field to toggle and show pips (ticks).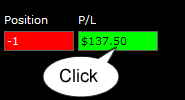 How can I cancel an order?
There are a number of places where you can cancel orders. Use the Trading View tab, the DOM Trader panel, the Order Ticket panel, or the trading interface from the Quoteboard panel.