The Trading Gateway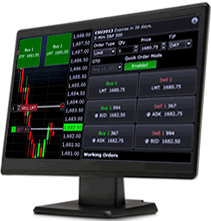 Barchart Trader supports electronic futures trading through any FCM that routes through the CQG order gateway. Barchart Trader also allows you to create one or more paper trading accounts to simulate actual trading and perfect your trading skills.
There are several ways to execute trades with Barchart Trader. The Trading View tab is a trading account management tool designed to keep all your trading accounts and records in one place.
If you are connected to a trading account, the Docked Order Entry Bar with quick "order expression" entry is always available at the top of the application, so you can trade regardless of where you are or what widget you're viewing. Using a keyboard-centric approach to entering trades, the Docked Order Entry Bar lets you use familiar keystrokes to perform tasks quickly.
Other ways to trade include directly from the Order Ticket, the DOM Trader, the Chart Trader, and from a Quoteboard.
Note: Before you can access any of the trading features and tools, you need to set up your account, identify your trading preferences, and Log In to the trading server.