The Quote Panel
The Quote panel displays price information for one symbol. You can easily view Headlines or the Instrument Profile for the symbol.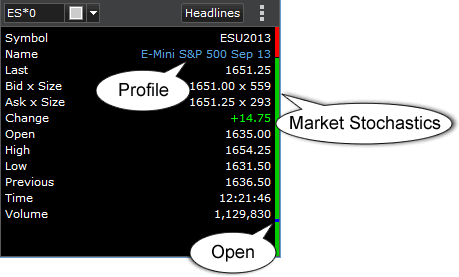 The Market Stochastics Meter is a visual representation of the session's market activity with the Open price clearly marked.
Add a Quote
Clicking the

+

button, found on the bottom right of the application. From the General grouping in the panel chooser, click Quote.
A preview window appears. If desired, change the symbol, quote fields, or other settings.
Click Add to Workspace.

Result: If this is the first panel added to the workspace, the panel will automatically fill the entire workspace. If it is not the first panel, you must choose a position on the workspace where the panel will reside.

As you move your cursor over the workspace, you will be able to preview the available positions where you can drop the panel into place. The workspace can be split either horizontally or vertically to create space for the new panel.
Click the position on your workspace where you want to drop the panel.
Related Topics