Time & Sales
Time & Sales is used to verify trades that occur for a particular symbol. View all tick-by-tick information for a particular symbol, where typically up-ticks are shown in green, and down-ticks are shown in red.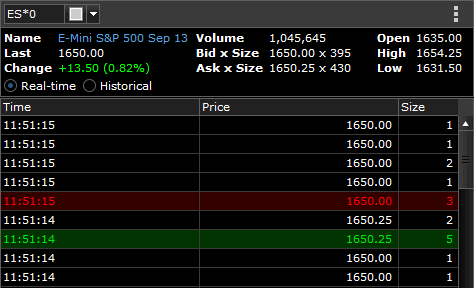 You may display Historical Time & Sales by choosing that option from the Details row at the top, or display the Instrument Profile by clicking on the Name (also displayed in the Details row).
Clicking the

+

button, found on the bottom right of the application. From the General grouping in the panel chooser, click Time & Sales.
A preview window appears. If desired, change the symbol, or other settings.
Click Add to Workspace.

Result: If this is the first panel added to the workspace, the panel will automatically fill the entire workspace. If it is not the first panel, you must choose a position on the workspace where the panel will reside.

As you move your cursor over the workspace, you will be able to preview the available positions where you can drop the panel into place. The workspace can be split either horizontally or vertically to create space for the new panel.
Click the position on your workspace where you want to drop the panel.
Related Topics