About Quoteboards
Quoteboards allow you to track a large number of symbols in a single table, making it easy to manage all of your watchlists.
Learn how to set a title on your quoteboards, customize the columns that are displayed, or add row separators when you want to group certain types of symbols together.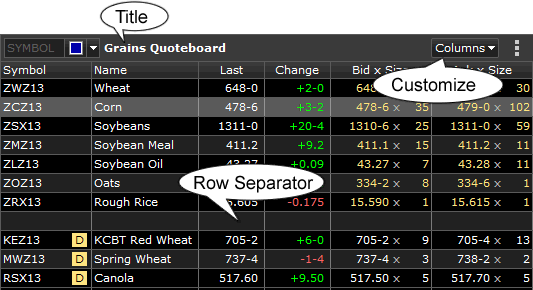 Entering Symbols on Quoteboards
To add a new symbol, click ANYWHERE on the quoteboard and use your keyboard to START TYPING the new symbol. As soon as you do, the characters appear in the middle of the panel, with the hint, "Press Tab for Symbol Search".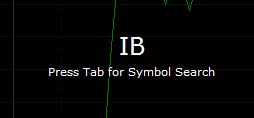 If you know the symbol, just type it and press Enter. 
If you don't know the symbol, press the Tab key to go to the Symbol Search.
Press your Esc key to stop entering a new symbol.
Futures instruments have some additional symbol entry shortcuts available to them. Read more here.
Deleting Symbols on Quoteboards
Right-click on the symbol you want to delete.
Choose Remove Symbol from the menu shown.




Panel Linking Using a Quoteboard
Panel Linking can be extremely useful when your workspace contains a quoteboard with multiple symbols, and other panels that normally contain only one symbol (such as a Chart, Quote, or Time and Sales). When you link a quoteboard to other single-symbol panels, clicking on a symbol in the quoteboard will change the symbol in all other linked panels. This makes it easy to monitor a large watchlist, and instantly be able to view detailed information on any symbol. Read more here.