Technical Quote
The Technical Quote panel provides a snapshot of the results of 12 common technical analytics over different periods of time for a symbol.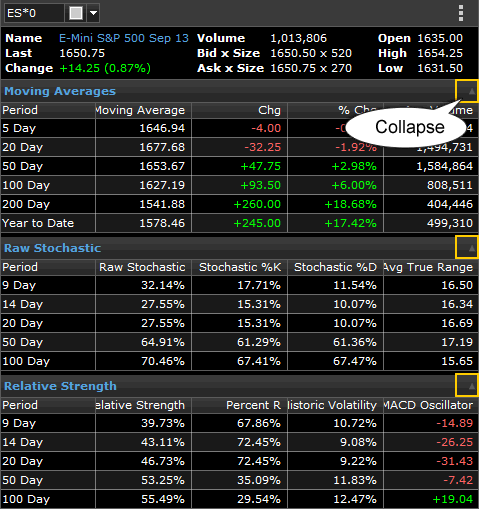 The analytics used are:
Moving Average - the average price of the security or contract
The Price Change and Percent Change (the difference between the Last Price, and the Last Price from the Period shown)
Average Volume: For Futures, the Average Volume is the average for the individual contract over the specified period of time.
Raw Stochastics, Stochastic %K, Stochastics %D and Average True Range
Relative Strength, Percent R, Historic Volatility and MACD Oscillator
Collapse / Expand Sections
Each of the sections on the Extended Quote panel can be collapsed to provide more viewing area on your workspace. Simply click the arrow to collapse or expand a section.
Add Technical Quote

Click the

+

button, found on the bottom right of the application. From the General grouping on the panel chooser, click Technical Quote.
A preview window appears. If desired, change the symbol, or other settings.
Click Add to Workspace.

Result: If this is the first panel added to the workspace, the panel will automatically fill the entire workspace. If it is not the first panel, you must choose a position on the workspace where the panel will reside.

As you move your cursor over the workspace, you will be able to preview the available positions where you can drop the panel into place. The workspace can be split either horizontally or vertically to create space for the new panel.
Click the position on your workspace where you want to drop the panel.
Related Topics