Market Depth Ladder
The Market Depth Ladder provides a vertical view of the current order book on a single price scale. Bids (orders to buy) are shown in the green column, and asks (orders to sell) are shown in the red column. As a trade is executed, the trade size is indicated alongside the price on the ladder. The Ladder expands on the view presented in the Market Depth panel by adding Cumulative Volume for the current trading session, for each trade price.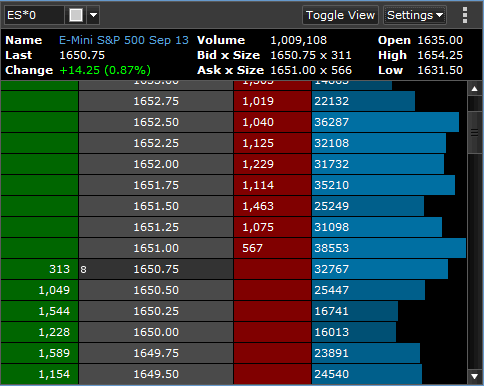 This view of the market provides a nice combination of current and historic order activity that can provide some insight into areas of support and resistance during the current session.
The panel allows you to toggle between two views, with and without volume.
Note: Market Depth Ladder is available only as an add-on and only for electronic contracts traded on the CBOT real-time exchange.
Add Market Depth Ladder
Click the

+

button, found on the bottom right of the application. From the Futures grouping in the panel chooser, click Market Depth Ladder.
A preview window appears. If desired, change the view or symbols.
Click Add to Workspace.

Result: If this is the first panel added to the workspace, the panel will automatically fill the entire workspace. If it is not the first panel, you must choose a position on the workspace where the panel will reside.

As you move your cursor over the workspace, you will be able to preview the available positions where you can drop the panel into place. The workspace can be split either horizontally or vertically to create space for the new panel.
Click the position on your workspace where you want to drop the panel.
Related Topics