Place an Order from the Order Ticket
Open the Order Ticket Panel
Click the

+

button, found on the bottom right of the application. From the Trading grouping in the panel chooser, click Order Ticket.
A preview window appears. If desired, change the symbol.
Click Add to Workspace.
Manually Configure the Order Ticket

Make sure the Symbol field is set to the desired symbol.
If desired, change the Qty field using the up/down arrows.
Note: The quantity shown is the default quantity, identified in your Trading Preferences.
In the Action field, choose either BUY or SELL.
In the Order Type field, select either Market, Limit, Stop, or Stop Limit.
Note: Depending on your selections, you may have additional fields to need to set.

Market: No further fields need to be set.
Limit: Set a value in the Limit Price field.
Stop: Set a value in the Stop Price field.
Stop Limit: Set values in both the Limit Price and Stop Price fields.
In the TIF field, choose a Time in Force.
Note: If you choose GTD (Good till Date), you must set the date in the GTD field.

Click the Send button, found at the bottom right of the panel.
Result: If configured to display confirmation messages, a message will appear about the order you have selected.
Using the Quick Action Buttons
When markets are changing rapidly, you can create an order using a Quick Action button.
Buy Bid, Buy Ask, Sell Bid or Sell Ask enters a Limit Order at the Best Bid or Ask price.
Close will close out (exit) your positions and Reverse will close out and then enter a trade that puts you in the opposite position.

Open Position
The very bottom of the panel shows your open position for this symbol. Your Profit / Loss can be displayed in dollars or in pips. Click on the P/L field to toggle.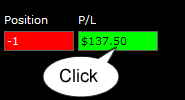 Related Topics
Enter an Order from The Trading View
Enter an Order from the Quoteboard