Accounts & Positions Table
The Trading View tab contains a customizable Accounts & Positions table. It is located just under the permanently docked order ticket. Use the drop-down list at the top left to select Accounts & Positions, Accounts only, or Positions only: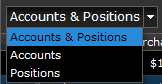 When viewing both Accounts and Positions, use the + and - buttons to expand or collapse the positions found in each account. Accounts may be "starred" to indicate importance, and then select them from the filters. Notice that the active global trading account is highlighted in blue.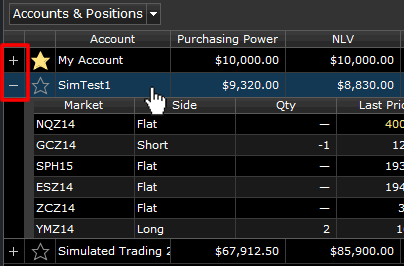 As shown below, you can use Filters to select the Accounts you wish to view (All, Current Active, Live, Simulated, or Starred.)
Managing Positions
If you have open positions, you can quickly issue an order to Close, Reverse, or Break-Even (at your average price) using the buttons on the right of the positions table..

Sortable Columns
The columns that display in the table can be used as a filter to sort the data displayed. Simply click on the column heading (click again to reverse the sort.)
Customizing the Columns
Use the Columns drop-down list to customize the display. The drop-down list separates the data fields available for Accounts from those available for Positions. Columns in the table may also be easily rearranged by dragging them and dropping them into a new location.
Creating Order and Position Reports
Use the Export button to download a Position Report or Account Summary Report (.csv format). The report will be created using the columns you've selected for display.