Oct 1 2021
Webinar Recap: Explore the New Features Available in cmdtyView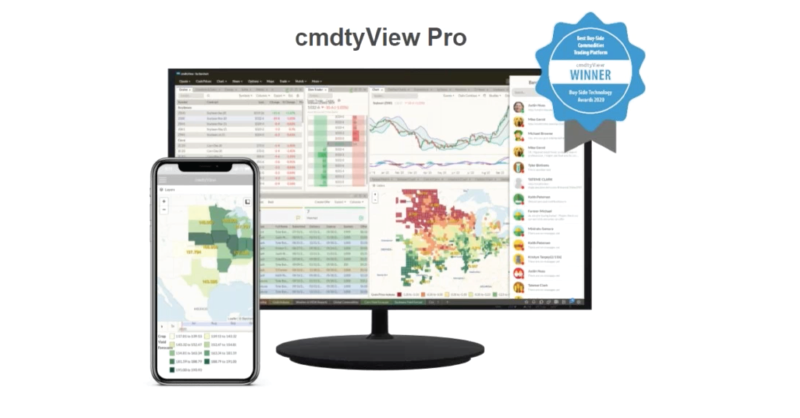 Yesterday we hosted an exclusive webinar with Barchart's Client Services Director, Tyler Bottoms, and Product Manager, Pat Fitzgerald. During this live webinar session, Tyler and Pat gave attendees an in-depth look into the client-driven enhancements we've made to cmdtyView to simplify and streamline commodity trading workflows. If you missed it, you're in luck..we'll break it down for you now.

The two kicked off the webinar with a quick overview of cmdtyViewPro, the new standard for grain, built to power any organization. cmdtyView Pro is the only workstation providing full access to cash grain prices, futures pricing, global commodity fundamental data, futures execution, physical grain trading, and advanced commodity analytics. All of the data in Barchart's ecosystem is delivered to cmdtyView Pro (with more content being added regularly)!

They also informed attendees that built-in access to our Excel Add-in is available, allowing you to build charts, curves, and stream commodity prices in real-time. cmdtyView Pro also connects to our grower app, Marketplace so you can interact with producers from the same application you manage your book and market risk.

Attendees then got to take a look at the global proprietary commodity data from Barchart available within the platform, including cash bids for over 4,000 North American locations, international grain pricing, energy pricing, and even metals including scrap metal prices. Our geospatial data includes weather data, soil moisture, and more. Bringing all of this data together allows Barchart to develop our proprietary datasets including cash price and basis forecast indexes and yield & production forecasts, giving you every single piece of information you would need - in a single product - anywhere, any time.
Tyler then dove deeper to explain that our workflows tie together with Marketplace, allowing you to interact through our products including match, cash bid and offer management system, route, our integrated ERP data including tickets, contracts, and more, chat, and sign - the ability to eSign documents such as grain contracts.
Tyler then handed it over to Pat to tell us more about the new upgrades and features available within cmdtyView. He started out by telling us all about social sign-on, our new quick and easy registration for Google, Apple, Twitter, Microsoft, and more! It allows you to get up and running faster with new menus, new alert windows, easier navigation, and more options - right at your fingertips.
Pat then pointed out the biggest change in cmdtyView, the settings menu. All the settings remain the same, but the menu itself is much easier to use and organized much better. We also added a notifications tab, so you'll never miss a beat when it comes to new webinars, podcasts, enhancements, and more.
We then learned about the upgraded charting available that provides users with more features, capabilities, and functionality. The upgrades include a new real-time header for charts that displays the current session OHLC, a new horizontal legend to comparison charts and improved cursor tracking window, and a new clickable legend that allows you to change settings on the fly. Seasonal charting has also been completely rebuilt from the ground up with more customizations available for viewing and added years back to 2008.
Pat then told attendees about the international crop production forecasts now available, including forecasts for Canada, Argentina, and Brazil. You can access our daily international crop production, acreage, and yield forecasts to get ahead of the curve, and make faster decisions than possible through traditional government forecasts.
We then took a look at the enhanced chat dialog - for the most demanding of users. Users can now seamlessly open multiple chat windows on the fly. Pat also explained that there's much more coming for chats in the future - including user-defined chat groups.

Tyler and Pat wrapped up the webinar by facilitating a Q&A. We could only fit so much into this recap, so make sure to watch the full webinar here. Sign up for a free trial of cmdtyView here or contact us at cmdty@barchart.com to get started.