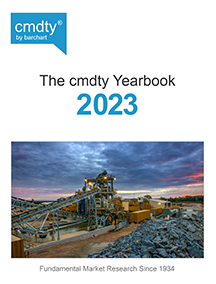 In-depth market analysis, easy-to-use data, and concise product overviews for better-informed decision making
Worldwide supply / demand and production / consumption data for all the basic commodities and futures markets – from Aluminum to Zinc, including all the major markets in interest rates, currencies, energy, grains and stock index futures.
Over 900 tables, graphs and price charts of historical data, many of which show price history dating back to 1900.
Concise product overviews that describe the salient features of each commodity and help put the quantitative information in perspective.
Past articles include:
Commodity Prices Sink on Weak Demand and Strong Supply
U.S. Economy Shows Sluggish Growth with Various Headwinds
Global Economy Continues to Struggle
Crude Oil Prices Plunge as Oversupply Plagues the Market
U.S. Dollar Remains Strong as Fed Finally Starts its Rate Hike Regime
Fed Begins What Mat be a Rocky Multi-Year Rate-Hike Regime
China Poses Major Risks to Global Economy as Growth Slows
Exclusive Coverage of 95+ Physical Commodities
Aluminum
Antimony
Apples
Arsenic
Barley
Bauxite
Bismuth
Broilers
Butter
Cadmium
Canola (Rapeseed)
Cattle and Calves
Cement
Cheese
Chromium
Coal
Cobalt
Cocoa
Coconut Oil and Copra
Coffee
Coke
Copper
Corn
Corn Oil
Cotton
Cottonseed and Products
Currencies
Diamonds
Eggs
Electric Power
Ethanol
Fertilizers (Nitrogen, Phosphate, Potash)
Fish
Flaxseed and Linseed Oil
Fruits
Gas
Gasoline
Gold
Grain Sorghum
Hay
Heating Oil
Hides and Leather
Hogs
Honey
Interest Rates, U.S.
Interest Rates, Worldswide
Iron and Steel
Lard
Lead
Lumber and Plywood
Magnesium
Manganese
Meats
Mercury
Milk
Molybdenum
Nickel
Oats
Olive Oil
Onions
Oranges and Orange Juice
Palm Oil
Paper
Peanuts and Peanut Oil
Pepper
Petroleum
Plastics
Platinum-Group Metals
Potatoes
Rice
Rubber
Rye
Salt
Sheep and Lambs
Silk
Silver
Soybean Meal
Soybean Oil
Soybeans
Stock Index Futures, U.S.
Stock Index Futures, Worldwide
Sugar
Sulfur
Sunflower Seed and Oil
Tallow and Greases
Tea
Tin
Titanium
Tobacco
Tungsten
Turkeys
Uranium
Vanadium
Vegetables
Wheat and Flour
Wool
Zinc