Bannister Lake and Barchart have worked together in the past, but the RFD-TV project took our relationship to a whole new level.
- Georg Hentsch
President

How Bannister Lake Provides Their Client With Commodity Market Data through On-Air Graphics and a Financial App
Meet Bannister Lake
Bannister Lake is a leading provider of professional video graphic display solutions for broadcast television, cable, satellite, audio/visual, information presentation applications, esports, and digital signage worldwide. Bannister Lake solutions serves as the bridge between data and graphics. Their products and services help editorial and engineering teams on all platforms tell better stories, improve workflows, and generate revenue. The company's solutions integrate seamlessly with existing infrastructures while automating the integration and display of external data sources, improving the productivity of any organization.
The Problem
Bannister Lake has a long history of integrating real-time data into broadcast television graphics working with a wide variety of television stations, networks, and event producers. Their client RFD-TV, a popular news channel focused on agribusiness, was planning a major change to their production processes, and was simultaneously looking to change data providers. RFD-TV looked to Bannister Lake for production, data and technical integration assistance and help with their graphic creation workflows. The channel uses real-time data for their on-air commodity and market reporting to populate full frame and ticker graphics. This work included custom development services to build a financial app that on-air talent would use to manage and take broadcast graphics to air.
The Solution
RFD-TV chose Barchart to be their data provider and Bannister Lake was tasked to integrate Barchart data into the on-air graphics and the customized financial app. In addition, Bannister Lake acted as the liaison between Barchart and RFD-TV to ensure that editorially and technically, RFD-TV was receiving everything they required. The development team at Bannister Lake worked closely with Barchart data experts to ensure that RFD-TV's data calls worked perfectly. This was especially important for the financial app that RFD-TV's news anchors use under the pressures of live television.
On-air talent use the application daily, powered by Barchart's real-time data, to monitor market activity, quickly select which graphics they want to put on air, create graphic playlists and then instantly broadcast the chosen graphics. The data supplied by Barchart includes cash bid data and grain indexes which allows RFD-TV to engage their audience with agricultural market intelligence, unique insights, news, and market data. In addition to the full frame graphics powered by data from Barchart, RFD-TV uses Bannister Lake's Chameleon data aggregation and management solution to power a news and market data ticker.
Bannister Lake went a step further by creating a custom software solution that allows RFD-TV to schedule sponsor logos associated with specific graphic boards and generate logs to reconcile logo exposure with advertising sales. This solution provides a more efficient workflow, while introducing new revenue opportunities.
"Bannister Lake and Barchart have worked together in the past, but the RFD-TV project took our relationship to a whole new level," said Georg Hentsch, President of Bannister Lake.
"We have gained incredible insights into the data available from Barchart and have successfully integrated that data into both our standard and customized solutions. We are excited about the opportunities that Bannister Lake and Barchart can pursue together in the financial news sector on multiple platforms," added Hentsch.
"At Barchart, we are dedicated to having a tailored approach when creating solutions for our clients," said Michael Browne, Head of Commodities at Barchart.
"That is why it was such a pleasure to work with Bannister Lake, who has a long-standing reputation for custom development work in the broadcast industry, and we look forward to collaborating in the future to create even more innovative solutions," added Browne.
With Barchart's data, Bannister Lake was able to provide RFD-TV with commodities data and graphic integration, a custom app, and more, improving RFD-TV's workflows and revenue opportunities. They now know that they can count on the team at Barchart and will be able to expand their broadcast related business for financial news producers.
To learn more about Bannister Lake, please visit www.bannisterlake.com.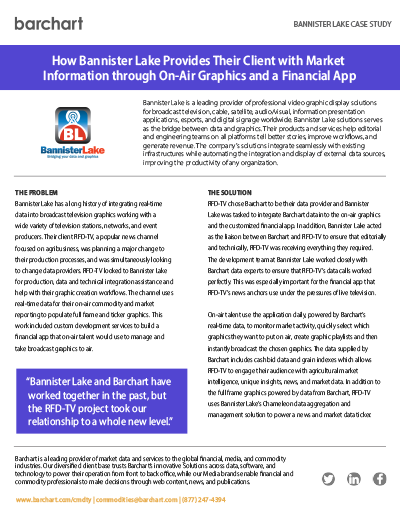 Download Case Study
Bannister Lake's customized financial application, integrated with Barchart data, controls and manages RFD-TV's real-time market graphics.
RFD-TV provides commodity and market analysis to viewers using Barchart data and software solutions powered by Bannister Lake.
See how Barchart can help you