Your App.
Marketplace connects your merchandisers to their customers, and provide farmers with access to scale tickets, contracts, balances, settlements and offers right on their phone.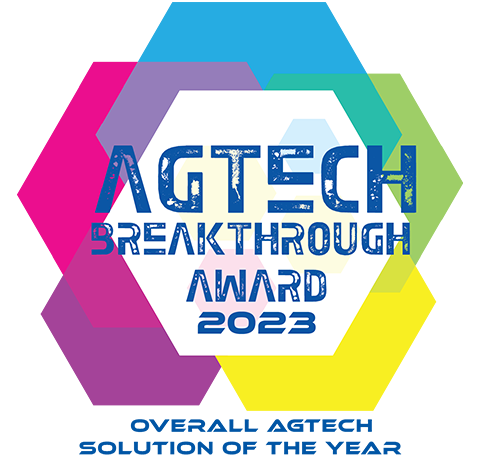 Build Better Relationships with your Producers with Better Data and Information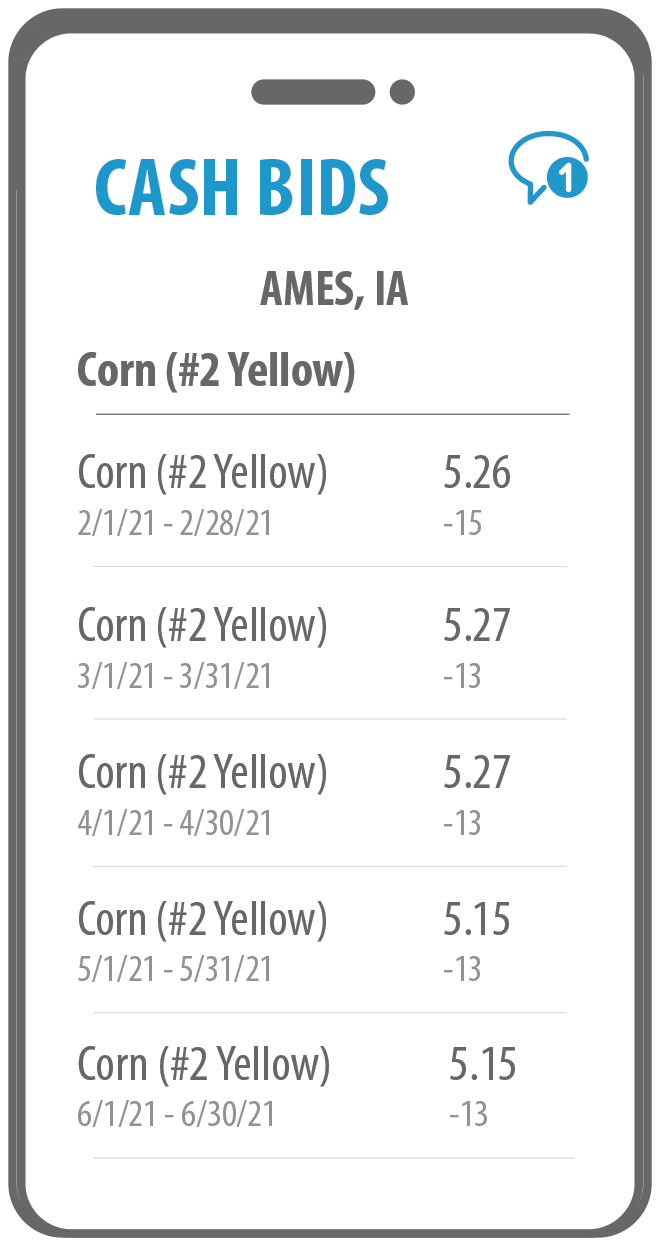 CASH BIDS
Give producers easy access to cash bids from all of your locations in real-time. With better information, they can make faster grain marketing decisions.
ALERTS
Broadcast alerts to all of your producers, deliver them through push notifications, and bring them back into your app. Your producers will be more engaged than ever before!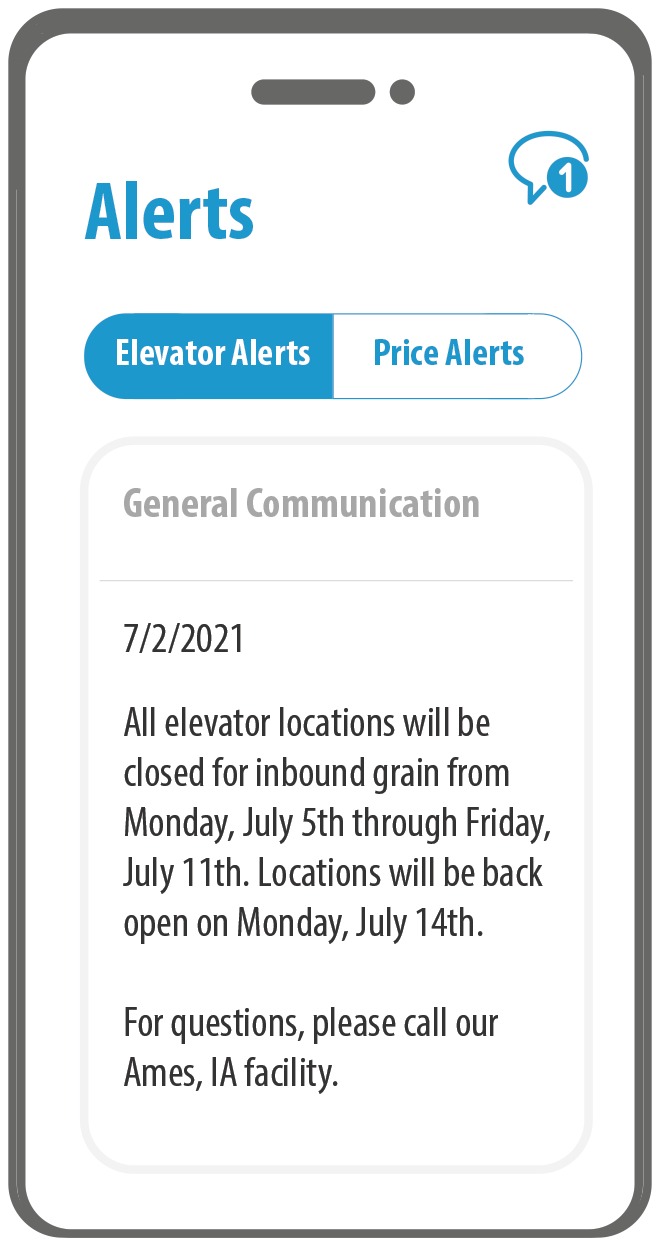 CHAT
Close deals faster with real-time chat capabilities. Negotiate offers in real-time with chat that links your desktop with your producer's phones.
FUTURES
Make your app the go-to dashboard for your producers. Stream all the commodity futures data they rely on into a beautiful app that features your brand, bids, and merchandisers.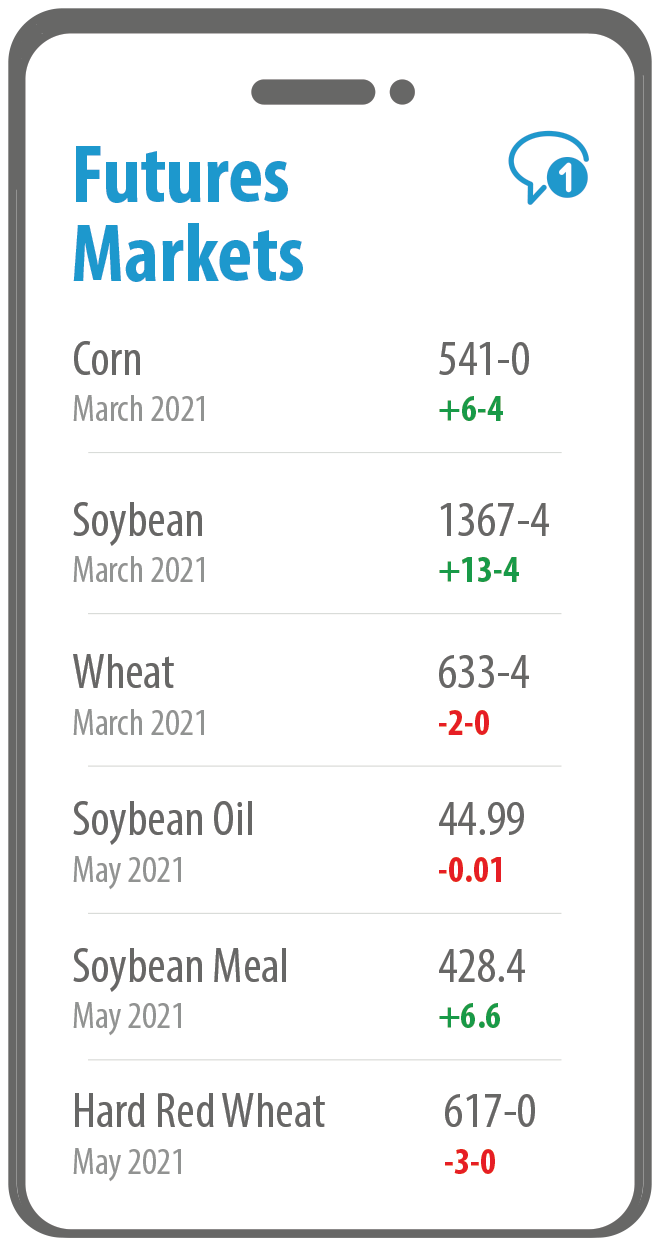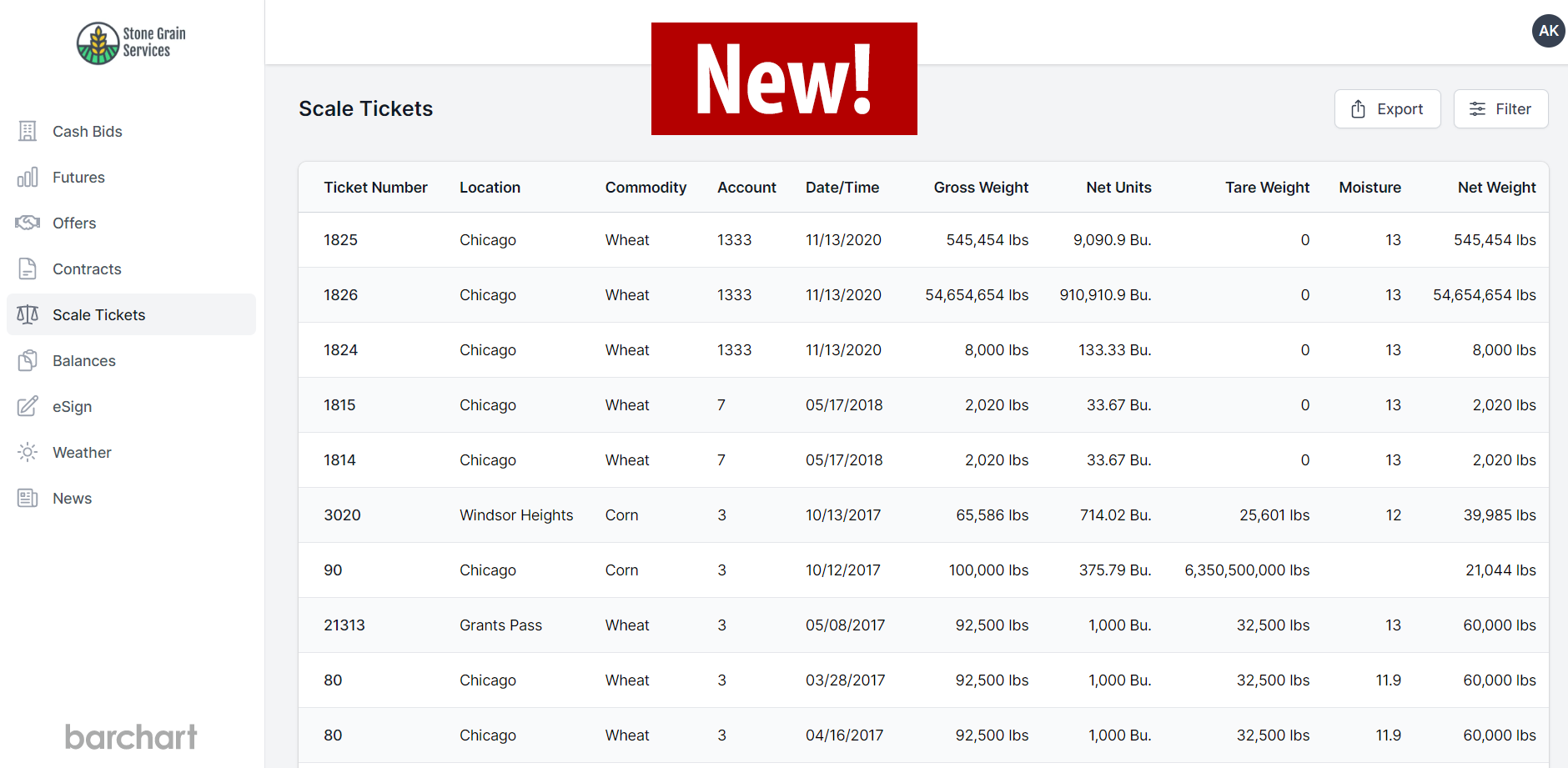 The fully customized online grower portal, which is included with a subscription to Barchart's Marketplace apps, further empowers agribusinesses to connect more effectively with growers and streamline grain trading workflows.
Equip your Producers with Critical ERP Data and Information Right at Their Fingertips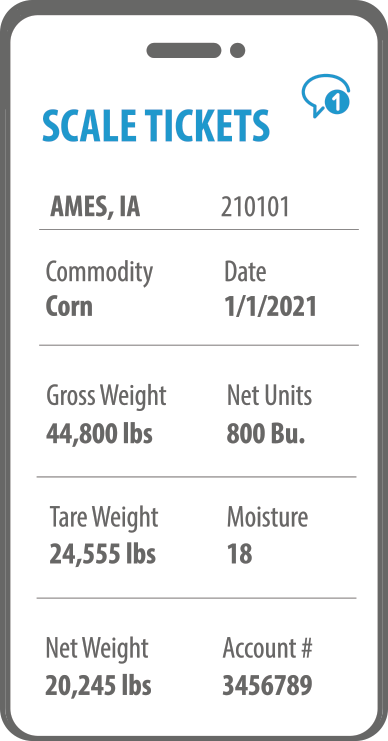 SCALE TICKETS
Simple to understand scale ticket information delivered to your app. Give producers information they can use to manage their business more effectively.
CONTRACTS
Deliver real-time contract information to your producers in the palm of their hand. With contract data from your accounting provider, your producers will know exactly where they stand.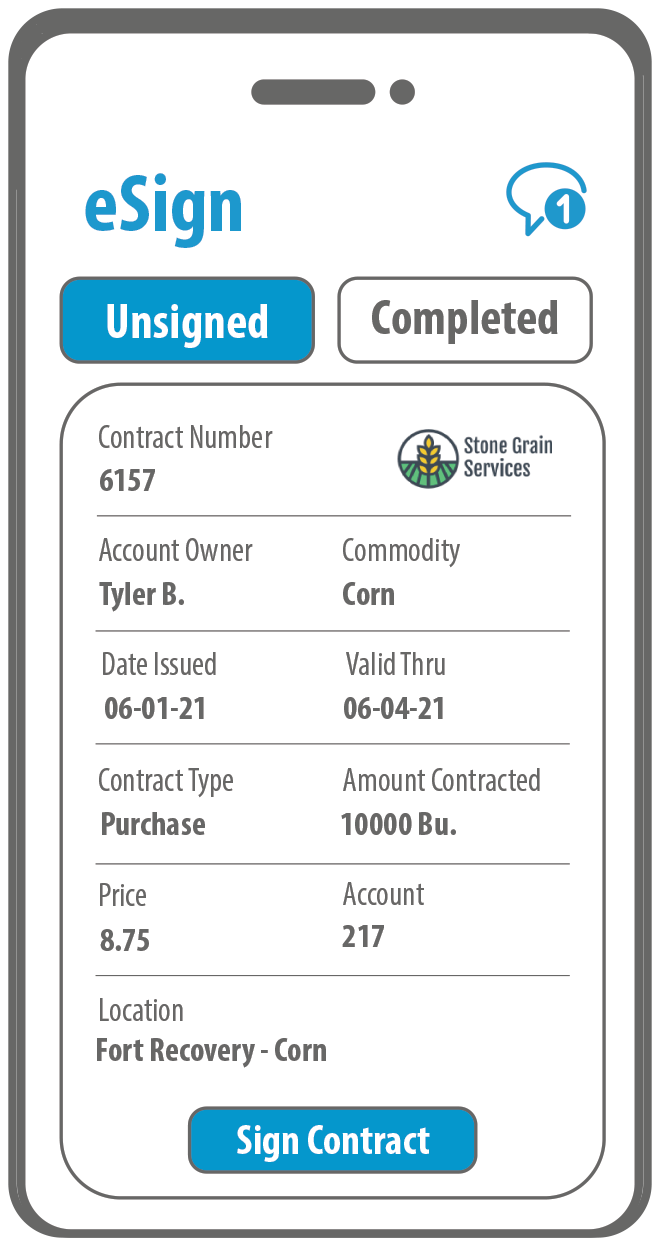 eSign
Create a one-stop-shop for contract execution, storage and delivery. With eSign capabilities you conveniently collect signatures on a contract and more efficiently do business with your producers.
BALANCES
See what grain you currently have in place with your producers across different locations. Market your grain better and move your business forward with live Balance information in your MarketplaceApp.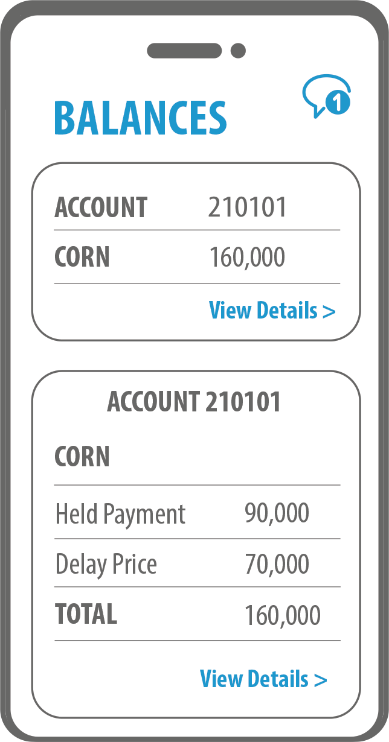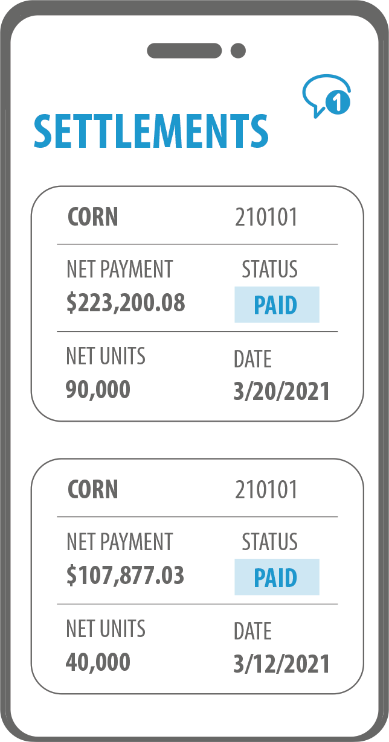 SETTLEMENTS
Easily display amount, status of payment and more with Settlements in your App. Give your producers the peace of mind knowing that their grain transaction has been completed.
Supply Your Customers with ERP Data from Industry-Leading Vendors
The online grower portal gives agribusinesses the flexibility they need to operate more effectively and build lasting relationships with their growers
The platform, which is fully customized to your agribusiness, is powered by Barchart's leading ERP connectivity, which allows growers to easily see contracts and scale tickets, evaluate offers, monitor cash bids, and follow breaking news all in one platform. Users can also export their data allowing for simple integration into farm management software.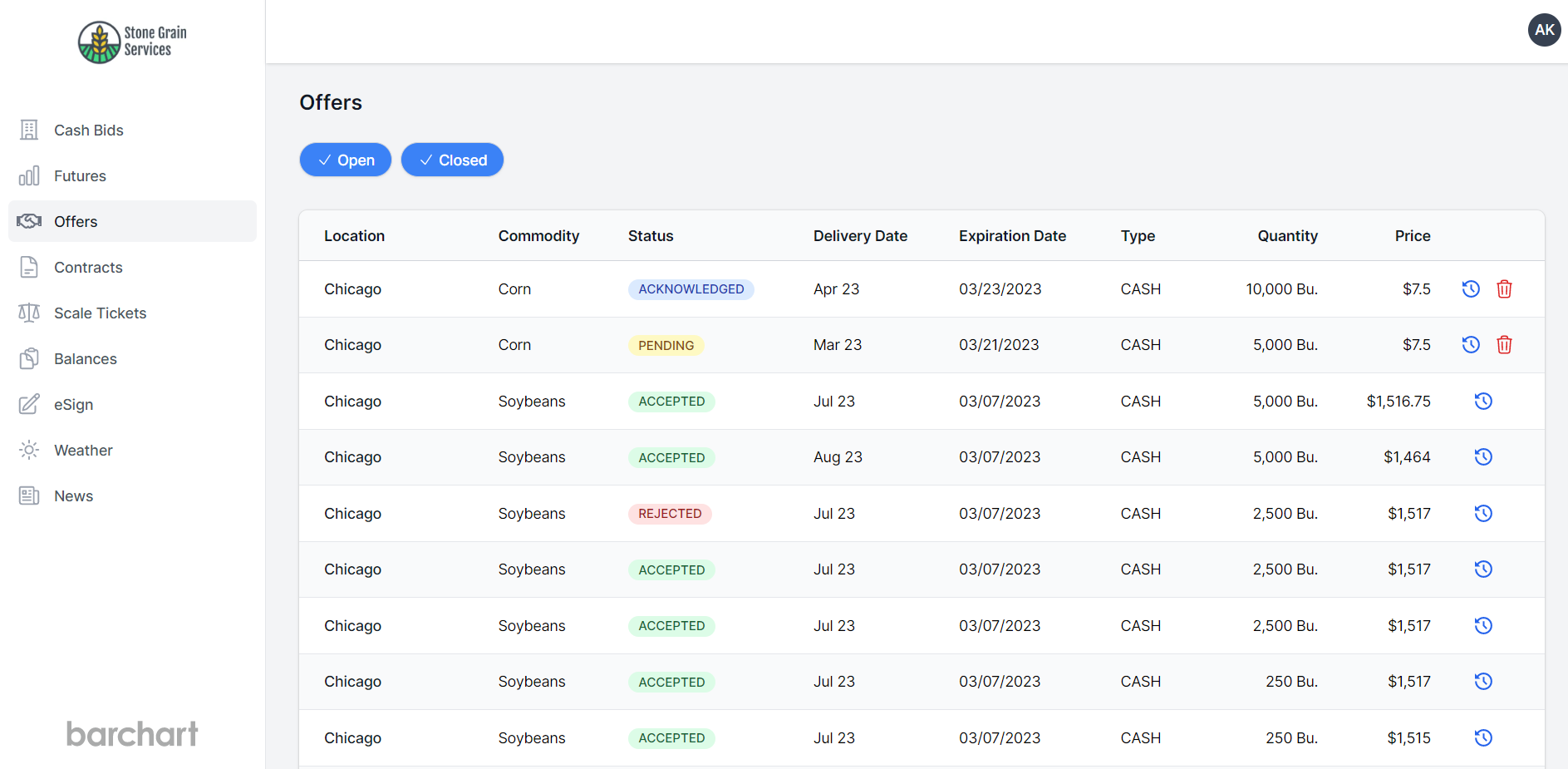 Execute Contracts Faster Than Ever Before with eSign
eSign allows you to manage contracts in the palm of your hand and execute them in seconds. With a simple push notification sent directly to your producer's phone, you can create a seamless, efficient workflow. Empower Your Producers with a Marketplace App
What sets us apart from our competitors? Hear what our customers have to say.
Grow Your Business Faster Than You Thought Possible
Provide your producers with a fully-branded mobile app that connects them with your business wherever they are. With seamless integrations to the merchandiser's desktop and your grain accounting system - the choice is easy.