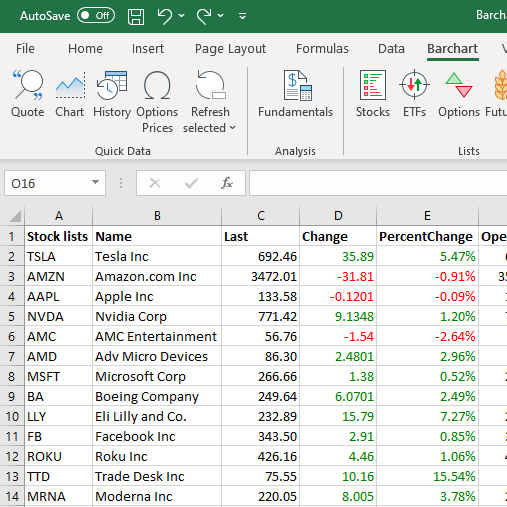 Unlock the Power of

Barchart.com

in

Microsoft Excel
Barchart.com data is now directly available with Excel, complete with real-time stock quotes. With the power of Excel you can analyze and monitor the markets with complete flexibility and the familiarity of Excel. You can stream stock, index, futures and currency quotes, instantly load historical data, sync your Barchart.com Watchlists and Portfolios, build custom Worksheets and apply Excel functionality to price and technical data.
$49.95 / month
Fees only apply after trial expiration. See an Explanation of our No-Risk Trials.
Features That Help You Excel
Barchart is committed to providing you with the best tools in Excel for navigating today's markets.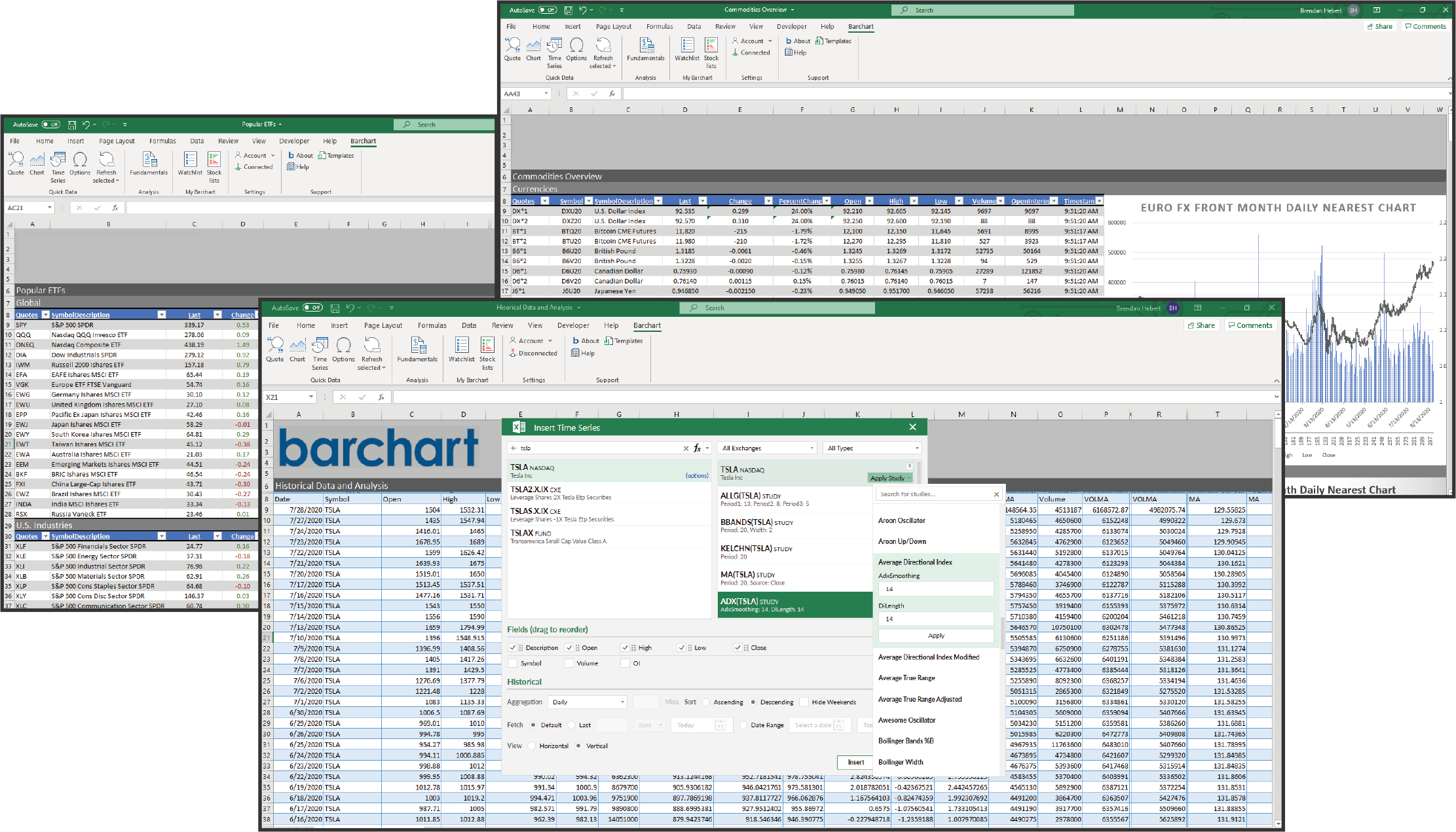 REAL-TIME U.S. STOCK QUOTES
Jump-start your research and analyze the markets as it's moving with streaming real-time U.S. Stock Quotes directly in Excel. Our real-time data ensures that you have the latest information available to support critical trading decisions.
HISTORICAL MARKET DATA
Get extensive access to daily, minute and tick data, plus historical bid/ask data. Our historical data is created from our real-time data feeds, allowing you to make better decisions with access to better historical data.
TECHNICAL STUDY DATA AS A TIME SERIES
Access moving averages, stochastics, volatility and much more.
SYNC YOUR WATCHLISTS & PORTFOLIOS
Pick up where you left off on Barchart.com right in Barchart Excel! Your custom Watchlists and Portfolios will automatically sync into your Barchart Excel account, giving you access to critical data where you need it.
EASILY CREATE BEAUTIFUL EXCEL CHARTS
Barchart Excel gives you the high-performance charts you need. Customize charting views to your needs with historical data prices and streaming updates. Choose from aggregations including intraday, daily, or even monthly data to display charts which suit your needs.
BUILD FORMULAS USING BARCHART DATA
Apply Excel functionality to Barchart price and technical data.
CREATE YOUR OWN CUSTOM WORKSHEETS
Customize your worksheets to your needs. Whether you want to create worksheets with stunning visualizations or create a simple template to get a general market overview, the sky's the limit with Barchart Excel.
ALL THE DATA YOU NEED
Access more data than you thought possible. Stocks, ETFs, Options, Futures, and Currencies.
Previous
Next
Use the Power of Excel to unlock the Barchart Data Store
Barchart Excel provides easy-to-use access to the same data and analysis you can find on
Barchart.com
, but more of it.
Access Stocks, ETF's, Equity Options, Mutual Funds, Futures, Commodities, Forex and Cryptos - you can download daily data back to the inception of our database, or 1-minute data going back 10-years in seconds across multiple asset classes.

Preview your Portfolio or Watchlist today with real-time market updates - or view the price of your holdings as of 1-month, 3-months, or from any fixed date in time.

Barchart Excel offers real-time time-series data not only on price data, but on nearly 100 different technical indicators that are available to chart or to display within Excel.

Inside Barchart Excel you can have 1,000s of symbols from your Barchart.com Watchlist appear immediately with your own custom views featuring price and technical data - and historical data is always just 1-click away.
WHAT OUR USERS ARE USING BARCHART EXCEL FOR
Get access to more data than you thought possible
Data Downloads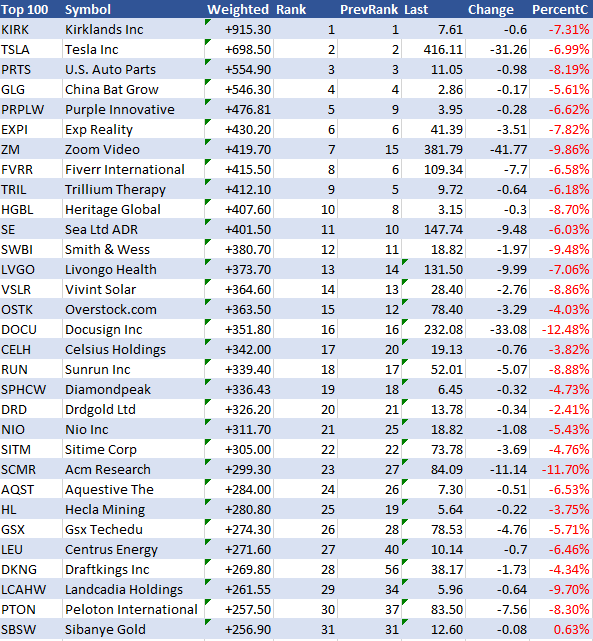 Utilize the power of Excel to unlock the Barchart Data Store. Download an unlimited amount of financial data, such as Top 100 Stocks, from Barchart.com directly into your spreadsheets.
Portfolio Valuation
Get an instant view into the current value of your portfolio, trading positions and watchlists - changes are updated in real-time and there are no limitations to the amount of symbols on a given list.
Options Analysis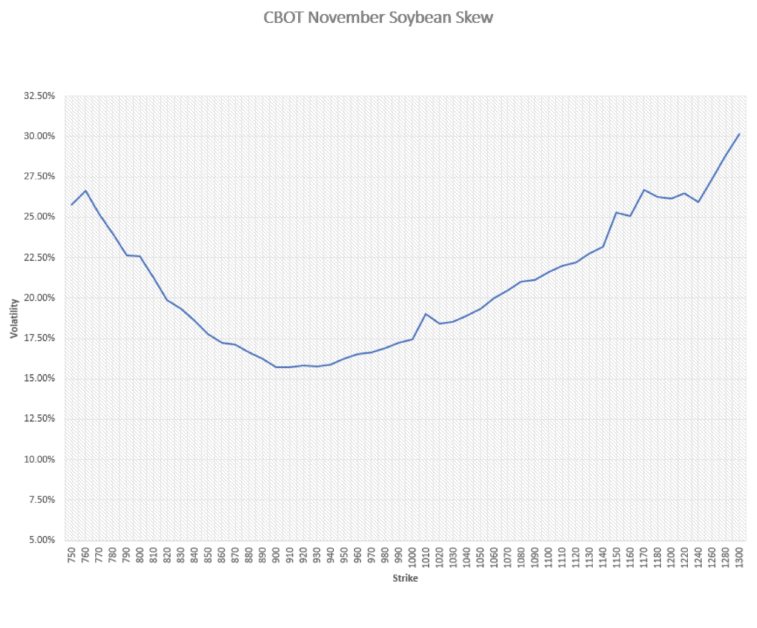 Options traders and portfolio managers can easily determine various dimensions of risk with access to historical end of day Greeks and implied volatility data.
Historical Research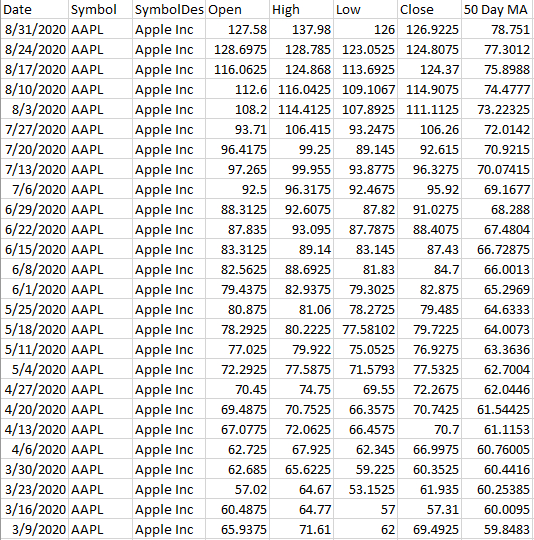 Using Barchart Excel, users have the ability to view the historical performance of any stock going all the way back to inception.
Expanded Charting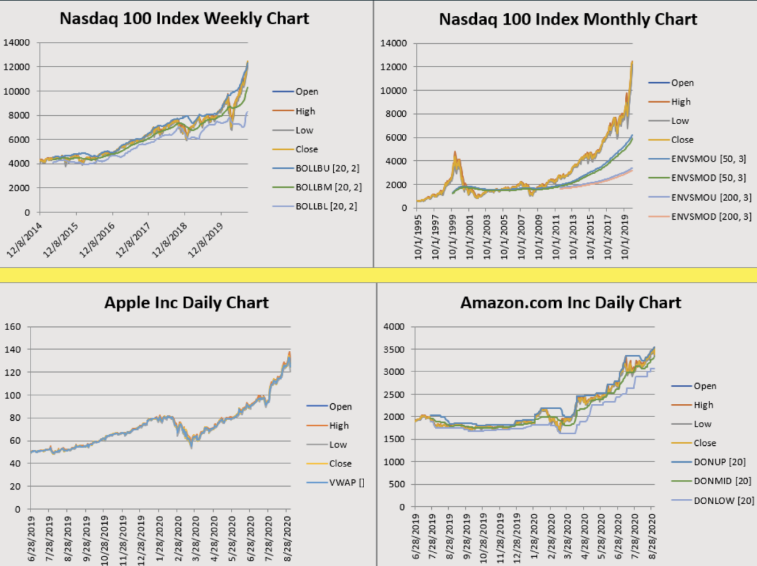 Create and view an unlimited number charts in Excel with the ability to apply upwards of 90 different technical indicators.
Custom Views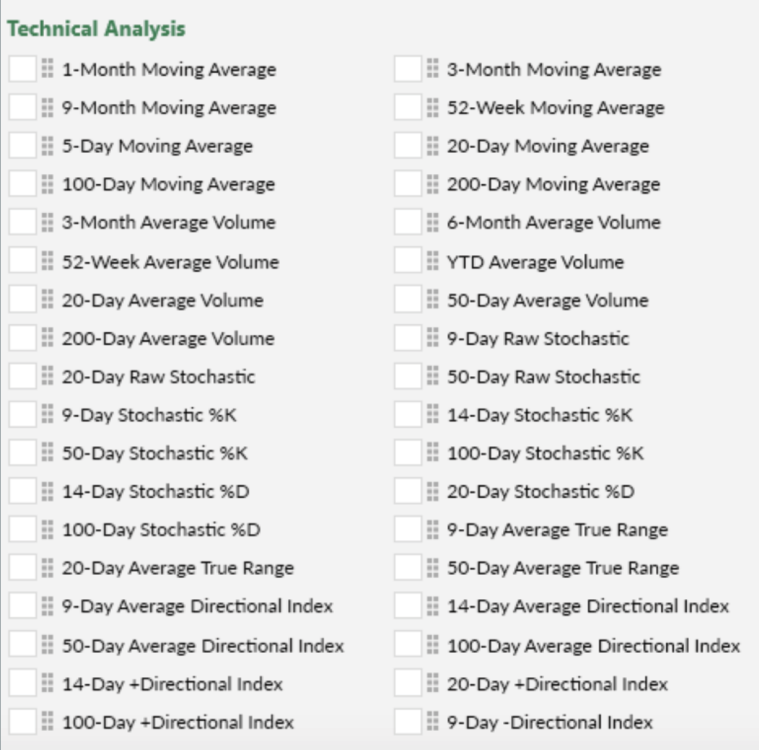 Create your own Custom Views with hundreds of data columns for volume, percent changes, technical analysis, and much more.
Backtesting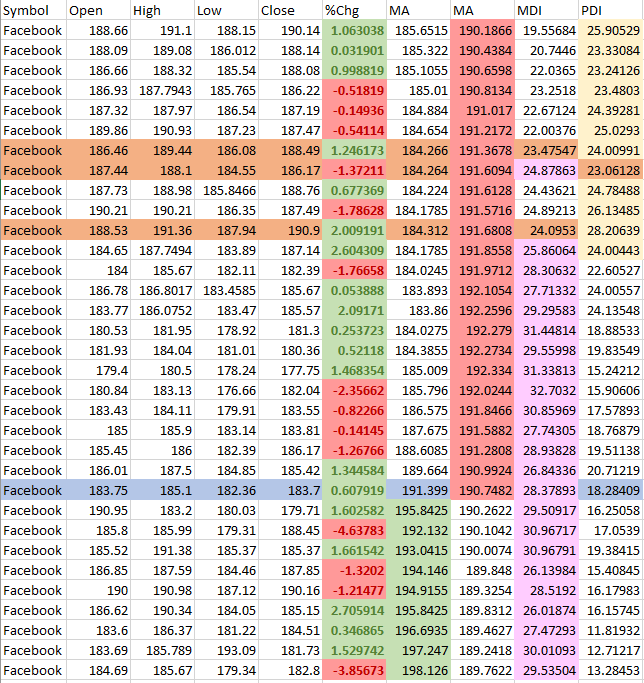 Users can now view multiple historical moving averages at once for backtesting purposes. You can use upwards of 100 technical indicators at a time.
Historical Performance
See how specific stocks within your watchlist have performed with EOD data for any individual day you specify. Users can also access an entire month of tick data.
Your Barchart Excel Subscription
MONTHLY SUBSCRIPTION
$49.95 / month
Fees only apply after trial expiration. See an Explanation of our No-Risk Trials.
Subscribe Now
*Your subscription also includes a free My Barchart membership.
*All subscriptions will automatically renew unless you cancel in advance.
*Real-time data requires an additional fee.
*Some Barchart Excel features are only available with a Barchart Premier subscription.