cmdtyView®
All of the data Food and Beverage
Professionals need in one place
The new standard for Food & Beverage analytics
The Data You Need
Access all of our data including global exchange data, physical commodity prices, and global commodity fundamentals all in one place. New content is always being added and is available to you across desktop, mobile, and in Excel.
Make Better Decisions
Procurement is more important than ever, and your firm understands how valuable making the right buying decisions are to the bottom line. Outperform your competitors with better data and tools!
Connect Your World
Disparate data, information silos, and legacy processes all contribute to inefficiencies. Our suite of solutions all communicate seamlessly and are built for collaboration. Work smarter, not harder today.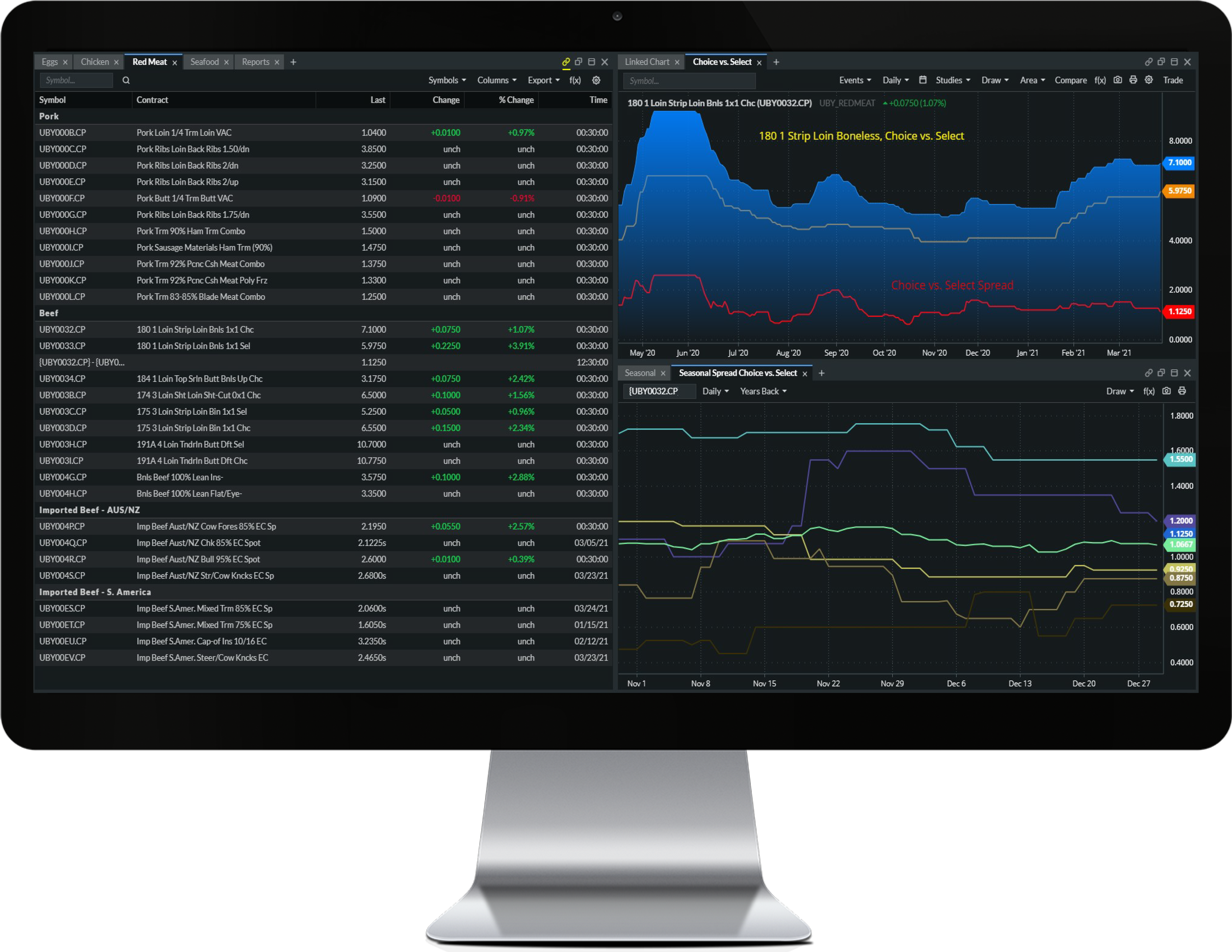 Food and Ingredient Data
Get access to our global coverage of grains, fruits, vegetables, and other food ingredients in real-time with exclusive pricing, estimates, and forecasts on the data sets that matter to your business.
Global Exchange Data
With our global coverage of grains, fruits and vegetables prices, protein prices, packaging prices and other food ingredient prices you will have easy access to exclusive real-time pricing, estimates, and forecasts on the data sets that matter to your business.
Fundamental Data
Access supply and demand information, imports and exports, and pricing from government reporting bureaus available globally through cmdtyStats, the number one source for global commodity fundamentals data.
Benchmark Prices
Our domestic and international benchmarks provide an objective and localized measure of price. Get smart, transparent, and accurate benchmark price assessments for any product, from any location, to power any decision.
Access data from the leading contributors in Food and Ingredient Data in cmdtyView
Meat & Seafood Prices
Ingredient Prices
Fruits & Vegetables
Packaging
We Help You Excel
Take the data you already pay for and power your complex models directly in Excel – all as part of your cmdtyView Pro license. Build highly scalable models using our global data warehouse and keep your internal and external stakeholders informed.
Analysts
Buyers
Data Scientists
Visually Analyze Commodity Data
Bring deep sets of data to life with our powerful geospatial mapping technology