Who Uses It?
Commodity Traders
Access to global market data in real-time, exclusive physical pricing, and global commodity fundamentals that keeps you ahead of the competition. Create forward curves and custom data series to support your trading decisions.
Data Scientists
Spend more time generating valuable insights instead of trying to write perfect code. With all of our data available in both cmdtyView for Excel and our APIs, you can build understanding and a proof-of-concept before your first commit…
Research Analysts
cmdtyView for Excel also supports company profiles, analyst ratings, estimates, and financial statements. Build models that help you identify opportunities, power reports, or satisfy near-term deliverables faster than you thought possible.
What's In It?
Get all of the data you need in one place with our vast coverage of global commodity markets. No need to worry about surprises, add-ons, or upgrade packages - you get access to all of our coverage as part of your cmdtyView license.
Streaming
Data streams directly into the chart ensure that you have the latest information available to support critical business decisions.
Seasonals Charts
Quickly understand seasonal price movements by plotting annual trends in supply and demand.
Forward Curves
Customize presentation of forward curve information across futures, physical commodities, and price assessments for grain.
Responsive
Completely responsive HTML5 platform that goes where you go - and on any device. Never be without the high-performance charts you need.
Customizable
Customize charting views to your needs with historical commodity prices and streaming updates. Choose from aggregations including intraday, daily, or even monthly data to display charts which suit your workflow.
Built for Analysis
cmdtyView for Excel was designed for deep analysis and research that can help you automate and improve your workflows. Take your research and analysis to the next level.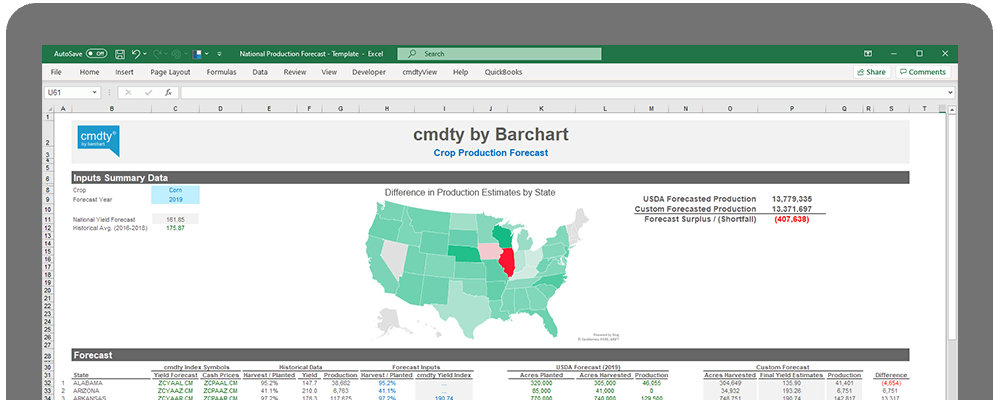 How do I get started?
Take the data you already pay for and power your complex models directly in Excel. The included cmdtyView for Excel add-in offers an easy and effective way power your workflows.
Download
Click here to download the cmdtyView for Excel Add-in and get started with the world's most powerful Excel solution for commodity markets today!
Template Gallery
Take a look at our gallery of templates for a multitude of use cases. Get started faster with pre-built tools that have been battle tested by our team of analysts and designed from the feedback of our users.
Quick Start Guide
From installation through to getting your first quote live in Excel, our quick start guide will have you building amazing workbooks in no-time. Drop us a line at real-time@barchart.com if you have any questions.