Barchart Chart of the Day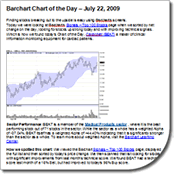 Each day, the Barchart Analysts scour the markets for trading opportunities and alert you with their promising finds with the featured "Chart of the Day". Our Research Team shows you how they use the free tools on the Barchart.com website to find market opportunities. They'll show you that if you search the Barchart site frequently enough, you'll notice stocks, ETFs, commodity or forex contracts that consistently hit all your "early warning" signs...those signs that alert you to real trading opportunities, before they occur.
Sometimes our Analysts will analyze the Barchart Signals, sometimes they'll review the Overall 52 Week Highs, and other times focus in on Barchart Opinions. But they will always show you HOW they spotted the Chart of the Day, and how YOU, TOO, can use these same free tools to become your own seasoned analyst.