Scrap Metal and Scrap Yard Apps
Branded Mobile Apps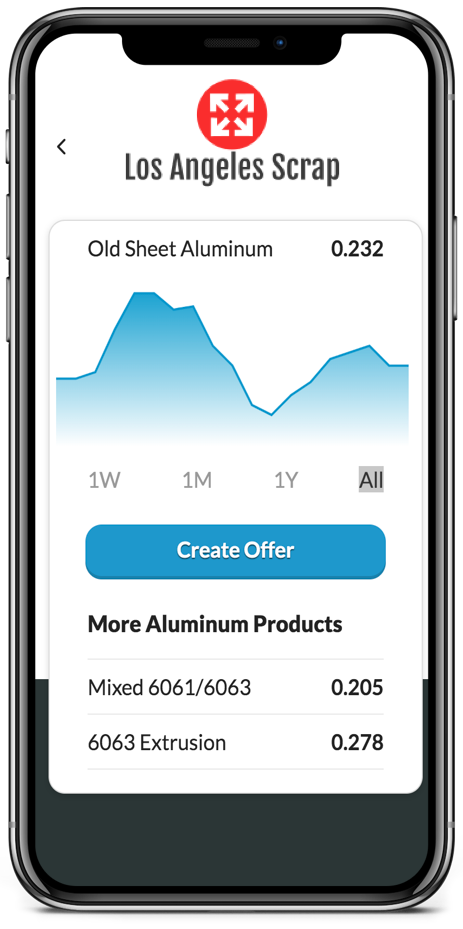 We deliver you a branded mobile app in days, not weeks and pack it with the features that matter to your user base. Get in the App Store and buy more effectively today.
How it Works
Free Access
Provide your scrappers with free access to apps that make you their preferred partner


Your Branding
Our apps are fully branded to your firm and keeps your business front of mind at all times


Chat
Stay in touch with built-in Chat that communicates with software on your desktop


Push Notifications
Use push notifications to ensure your pricing or messages are delivered in real-time


Features
Scrap Yard Prices
Provide live pricing to scrappers from all of your locations in real-time. With better information they can make faster decisions with less effort from you.


Chat
Negotiate deals in real-time with chat that links your desktop with scrapper phones. You've never been more productive and engaged with your customers.


Futures Pricing
Make your app the go-to dashboard for your scrappers. Stream all the metals futures data they rely on into a beautiful app that features your brand, bids, and employees.


News
Give your users access to premium news through Barchart's Commodity Newswires. Our highly engaging content will keep your scrappers coming back for more. It works.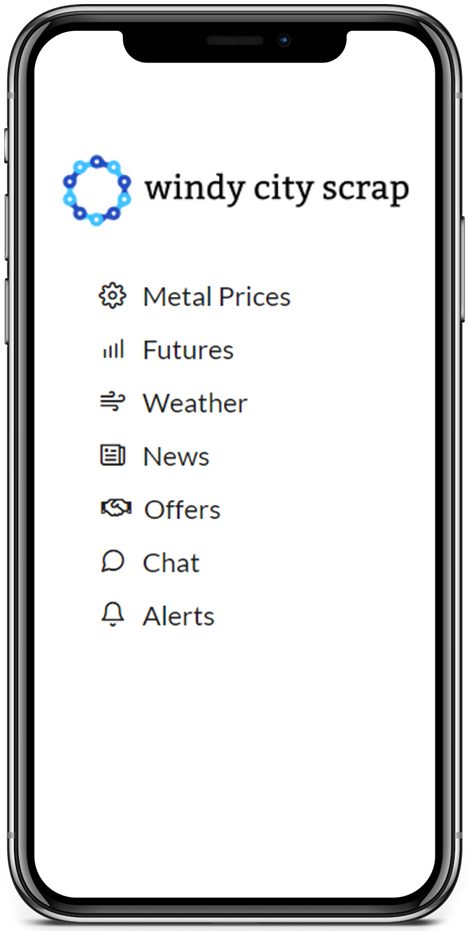 Websites & Price Distribution
Ensure your prices are seen! We help you manage your bids and can publish them to your website, mobile app, and direct to notifications on your client's phones.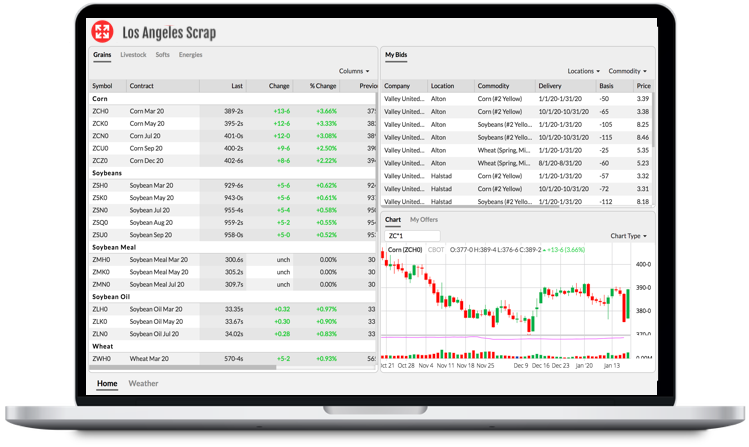 Websites Distribution
Your Website is Just the Start
Be the leader in your market with websites, apps, and tools that engage your clients. Own your market with our help.


Get Seen and Drive Growth
You can't grow if you don't stand out. Be top of mind at all times with tools, content, and live pricing - making you the easy choice.


Your Website = Your Business
Provide your clients with interactive dashboards which let them interact with your brand at home and on their mobile device. Trust us, it works.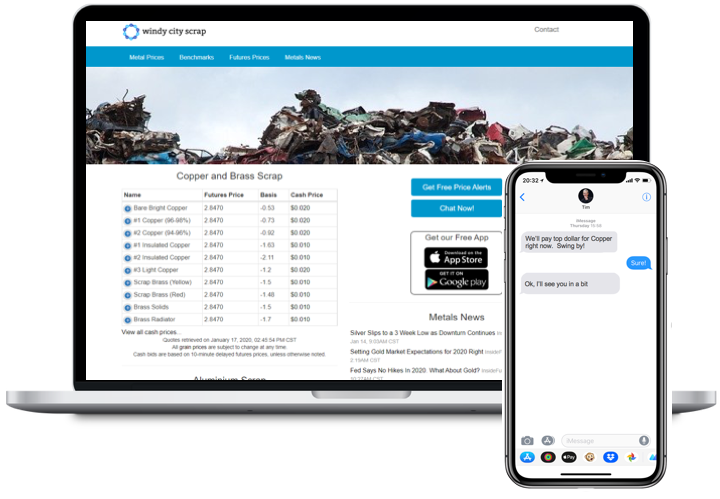 Price Distribution
Distribute Your Prices. Everywhere
Stay in front of your clients wherever they are. Deliver your prices via app, web, text, email, or push notifications all from one dashboard.


Chat. It's Really That Simple
People want chat. It's easy, fast, and keeps you in front of your scrappers. Push pricing out from your desktop and watch supply line up.


Pricing Dashboards
Get streaming futures data in Excel to help your employees provide better price quotes than you've ever done before. Let us help you earn more money from your business.
How it Works
Custom Pricing Dashboard
Use our template to build custom metal compositions and then calculate streaming prices from COMEX, LME, and Shanghai. Let us help you setup a customized dashboard for your business that provides you with instantly updated blended futures values that account for composition ratios, the underlying currency, and your preferred unit of account. Get started instantly with 36 of the most popular products already configured.




Analytics Software
cmdtyView Pro is the leading commodity analytics platform for a reason. With global exchange data, physical commodity prices, futures execution, and advanced analytics in one place your search for a better workflow is done. The best part is that your new desktop platform communicates with our mobile apps - allowing you to interact with clients right from your desk.


Stream Data in Excel
Take all of the data available in cmdtyView Pro and access it directly in Excel. Sometimes you can't do everything you need to in software, so we built cmdtyView for Excel to help with analysis and research that can automate and improve your workflows. Take your research and analysis to the next level.



In the Barchart Commodities blog More
cmdtyView®
Get all of our commodity data and prices in cmdtyView®
All of our exclusive data and prices are available through the cmdtyView® terminal – a fully web-based and responsive commodity trading platform that works seamlessly across all of your devices.
Start Free Trial ›